Fifty Shades of Grey: E.L. James Responds to Casting "Haters"
by Joel D Amos at . Updated at . Comments
Charlie Hunnam and Dakota Johnson cast as leads for Fifty Shades of Grey has not quite reached the level of reaction to the announcement that Ben Affleck is Batman in the Man of Steel sequel. But, fans are certainly just as passionate.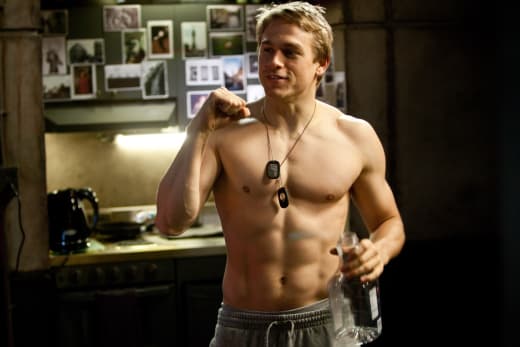 Many of them said, including many on our Facebook page, that neither Hunnam or Johnson "look" like Anastasia Steele and Christian Grey. Some have even said that neither are the type of A-list names that can draw millions to the multiplex. But, really, that should not matter when a page-to-screen effort is based on the sensation that is author E.L. James' book.
James took to Twitter and believe it or not, even appreciates the "haters" because she believes it shows that there is immense passion out there for her highly passionate book. "To all the supporters, lovers and haters -- thank you so much for the passion that you have for this project," James said. "You all rock. All of you."
With the Fifty Shades of Grey release date announced as less than a year away, it must also simply be a sigh of relief that Hunnam and Johnson were cast… period. It takes months and months to put a film together and with that deadline looming that is the studio-announced release date… anticipation had to be running quite high.
Fifty Shades of Grey producer Dana Brunetti also took to Twitter to respond to the casting news and reported that there is much more to putting together an ensemble than it appears. "There is a lot that goes into casting that isn't just looks. Talent, availability, their desire to do it, chemistry with other actor, etc," Brunetti said.
The producer then directed his comments squarely on those who disagree with the casting. "If your favorite wasn't cast, then it is most likely due to something on that list. Keep that in mind while hating and keep perspective."
Well, to paraphrase Matt Damon in Good Will Hunting… how 'bout them apples?!