Gravity: James Cameron Calls It "The Best Space Film Ever Done"
by Joel D Amos at . Updated at . Comments
Gravity is about to set the Toronto Film Festival afire after emerging from the Venice Film Festival as a critical and audience favorite. The Alfonso Cuaron (Harry Potter and the Prisoner of Azkaban, Children of Men) film features Sandra Bullock and George Clooney as astronauts on a routine space walk that winds up being anything but routine.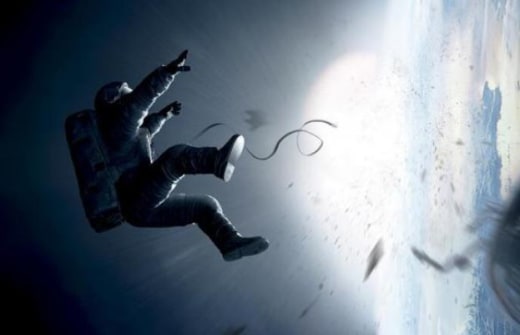 Cinema icon James Cameron has seen it and he cannot say enough. The Titanic filmmaker talked to Variety and from what he said… audiences should be lining up to see Gravity when it opens October 4.
Cameron said what we see teased in the Gravity trailer is "the best space film ever done." Yeah, that is from the man who gave us Aliens and Avatar.
"I was stunned, absolutely floored. I think it's the best space photography ever done. It's the movie I've been hungry to see for an awful long time. What is interesting is the human dimension -- Alfonso and Sandra working together to create an absolutely seamless portrayal of a woman fighting for her life in zero gravity."
Having read the script, Cameron marveled at the filmmaker's ability to bring something to the big screen that he thought was borderline un-filmable. "I thought it was tremendously challenging to shoot with a high degree of veracity to get the real look of zero gravity," he said.
"I'm sure Alfonso had a real uphill battle with the studio, with everyone involved, to get it the way it needed to look. But he knew in his mind how it needed to look, and he went after it."
For those of you who have wondered how Bullock in Gravity is going down the Oscar buzz road again after her victorious journey for The Blind Side, just listen to what Cameron had to say about her riveting turn in what is sounding like Cuaron's masterpiece.
"She's the one that had to take on this unbelievable challenge to perform it. [It was] probably no less demanding than a Cirque du Soleil performer, from what I can see. There's an art to that, to creating moments that seem spontaneous but are very highly rehearsed and choreographed. Not too many people can do it. I think it's really important for people in Hollywood to understand what was accomplished here."