When we spoke to Gwyneth Paltrow for Thanks for Sharing, the star was asked about some comments she made recently about being "not interested" in sci-fi… and that includes her work in films such as Iron Man. She sought to clarify those concepts and even delved deeper into how much fun it is to play in that world.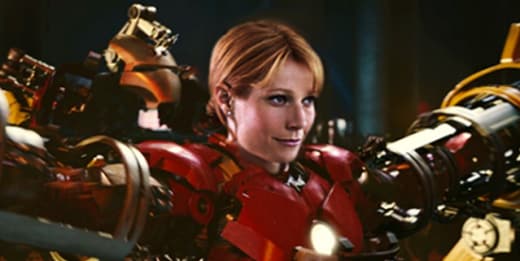 "It's not that I'm not interested. It's just that I don't get it. I'm not intelligent enough to appreciate sci-fi. I think I'm missing something or maybe I just have a vagina," Paltrow said and laughed. "That may be the problem."
The actress went on to report that she likes to have roles, like in Thanks for Sharing, that strike a chord in other ways, as well as those that are based in films that are bombastic and fun... such as her recent turn in Iron Man 3, that even saw her donning the suit!
"A movie like this, which is really about something, is very intriguing. I love doing the Iron Man movies, don't get me wrong, and I love working with Robert Downey Jr., but this kind of thing is just a whole other kettle of fish. I love the fact that this movie is about what we should all be doing, which is bumping up against our damage and seeing what's holding us back and keeping us from being whole people," Paltrow said.
"You can look for metaphors and stuff in a movie like Iron Man about triumph and different archetypes, but with a movie like this it's nice to do something that's so intelligent and original and kind of forward."
She stressed that both give her something creatively and professionally that enhance her life. "I don't prefer one over the other," Paltrow said.  "I loved doing Iron Man and I love doing action. I had an amazing time doing special effects and I had never really done that kind of thing before and I absolutely loved it."
But, she also enjoys working in an ensemble like she has in Thanks for Sharing. "I also absolutely love working with these actors and saying these amazing words," she added. "I'm very lucky that I get to do both."