Hell Baby: Thomas Lennon & Ben Garant Chat Creating Hilarious Horror
by Joel D Amos at . Updated at . Comments
Hell Baby writer-directors-stars Thomas Lennon and Ben Garant have worked together for years. We met the guys who are best known as the brain-trust behind Reno 911 and the screenwriters of the Night at the Museum movies for an exclusive chat to talk about making horror hilarious and how they are a study in making under-thinking a concept an art form.
"We took under-thinking to a whole new level," Lennon said.
As teased in the Hell Baby trailer, Garant and Lennon also star in the film as chain-smoking priests with accents that are done for laughs. They also reported that they crafted the film for humor, without giving too much thought to the hows and whys.
"That's what was nice, a lot of like, 'What if we did that?' Like, why does she become possessed?" Lennon said.
To which, Garant answered, "I don't know!"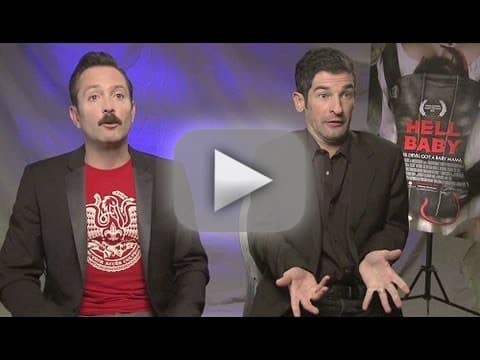 Lennon admitted that, like their humor, Hell Baby is not for everybody… as you can tell from the Hell Baby trailer! "But if it's for you… it's very much for you," Lennon admitted of his wicked comedy.
Garant feels that the film is "like Reno, but on nitrous!"
And stay with Movie Fanatic as we run more from our interview where the guys talk the future of Reno 911 and Night at the Museum 3.