The trailer and poster for Homefront has arrived, starring James Franco and Jason Statham (currently shooting The Expendables 3).
The story is based on a novel by Chuck Logan about a widower who retires to a small town to raise his 10-year-old daughter after a decorated career as a DEA agent. Seems that local James Franco is a little threatened by the arrival of an ex-DEA agent and thus begins a battle of wills that will probably not end too well for one of them.
Homefront is directed by Gary Fleder (Runaway Jury) from a screenplay by Sylvester Stallone! Did you know Stallone won an Oscar for Best Screenplay for Rocky? Yeah, the guy can write!
Homefront also features an all-star cast with Franco and Statham joined by Winona Ryder (fresh off her heartbreaking turn in The Iceman), Kate Bosworth and Frank Grillo.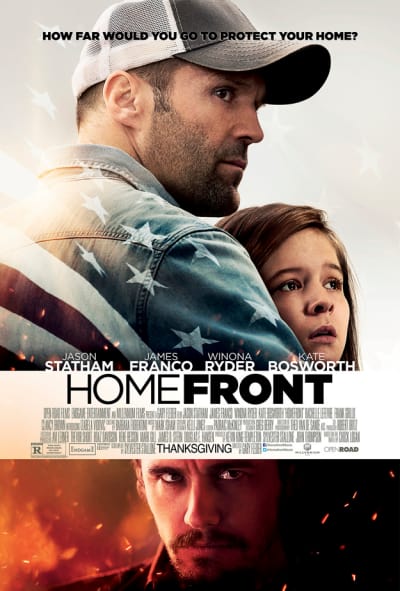 Look for the battle to begin when Homefront hits theaters October 4.