Kick-Ass co-creator Mark Millar has made it be known that he has always envisioned the series as a trilogy. So, regardless of how Kick-Ass 2 does in theaters, fans can count on a third story in the world of Dave Lizewski… even if it is just in comic book form.
But, then again, we never expected to see Kick-Ass 2 hit screens, so don't be surprised if Universal Pictures is tempted to make a third film. At least at that point, they can always package it in the always attractive trilogy home video market.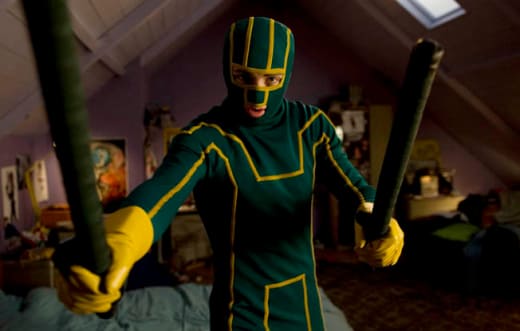 "I'd always planned it as three books and three movies. I've just about finished the book. I'll be finished in about a week or two's time, and that's the end. It's weird because my agent keeps saying to me, 'We made a lot of money here, let's do Kick-Ass 4 and 5,''" Millar said.
He admits that even if his agent wants it, there is no way in the world this universe will go past three chapters.
With Kick-Ass 2 only banking $24 million in the U.S. and it making a grand total of $40.2 million internationally, chances for a third film could appear to be next to nill. But… these films do astronomically well on home video. So until the proverbial fat lady sings… this franchise is still, well, kicking ass.