Maggie: Arnold Schwarzenegger Tweets First Pic from Zombie Movie Set
by Joel D Amos at . Comments
Arnold Schwarzenegger must be done with his work on The Expendables 3 because he just tweeted a photo from the set of Maggie. Maggie is a zombie flick that shows great promise based alone on the fact that the script was one featured on the Blacklist (a list of the best unproduced scripts in Hollywood).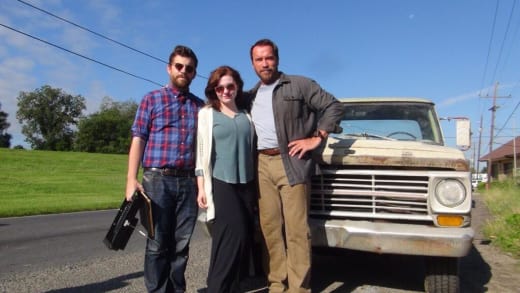 The Schwarzenegger pic comes hot on the heels of the Escape Plan clip that was released yesterday featuring his prison fight scene with Sylvester Stallone.
Now, back to Maggie: The zombie film stars Schwarzenegger and Abigail Breslin as the title character. She is infected by a virus that ever so slowly turns her into a zombie. The action icon is portraying her father and how he deals with his ever-craving flesh daughter will be the crux of the film.
No release date is set for Maggie as of yet, but we're guessing with filming set to conclude by close of 2013, look for it in 2014.