Neighbors Red Band Trailer: Seth Rogen vs. Zac Efron!
by Joel D Amos at . Updated at . Comments
Seth Rogen and Rose Byrne play a married couple with a new baby in Neighbors, and it appears that they are in heaven. They live in an idyllic neighborhood… that is until a fraternity moves in next door. Fresh off of yesterday's premiere of two Zac Efron Neighbors photos, arrives the red band trailer for the Nick Stoller written and directed comedy about the battle that ensues between our titular people.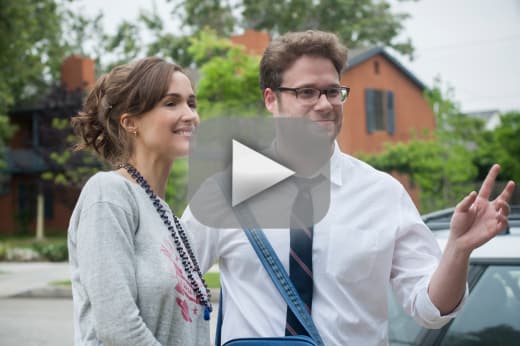 You would think given the reputation fraternities have had over the years for getting away with dirty hijinx and their penchant for pranks that can leave their victims laughing, crying and shaking their heads in disgust, that Byrne and Rogen wouldn't even go there. But, we wouldn't have this great looking comedy if they didn't!
Stoller appears to be right in his element. The man who wrote and directed Get Him to the Greek and Forgetting Sarah Marshall is also the screenwriter of The Muppets and Jim Carrey's Yes Man.
Neighbors battle when the film opens May 9, 2014 and check out the two new stills of Byrne, Rogen and Efron doing his best Robert De Niro!