Now You See Me was the surprise hit of the early summer and it lands on DVD and Blu-Ray, set to be a go-to home video of the early fall. This all-star cast (including legends Michael Caine and Morgan Freeman) is featured in the most original of stories about a group of magicians who pull off a series of international heists that leave federal and international agents baffled.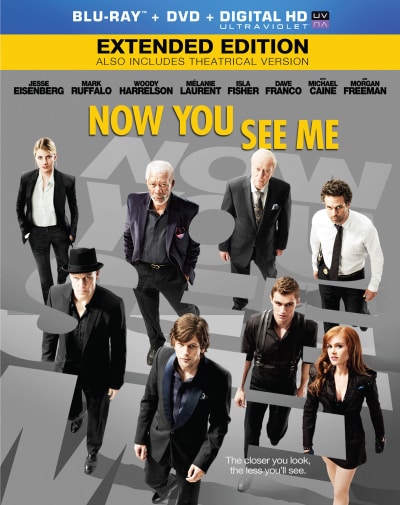 The Four Horsemen are Jesse Eisenberg, Woody Harrelson, Dave Franco and Isla Fisher and attending their illusion shows could wind up being quite profitable. See, the quartet pull off robberies all around the world, without leaving the confines of their live shows, and oftentimes, their audience members' bank accounts explode with riches!
Hot on their trail, as seen in the Now You See Me trailer, is federal agent Mark Ruffalo, who is trying to figure out how they do it in order to bring them in. Interpol is also trying their best to arrest the troupe as their robberies often hit international banks. Thus far, nothing can be proven and no evidence clearly links them to crimes that certainly embody the full phrase that inspired the movie's moniker… Now You See Me… Now You Don't!
In the second Now You See Me movie trailer, it was easy to marvel at how filmmaker Louis Leterrier crafted his thriller that never forgets to also have fun. I mean, just look at this Now You See Me clip of Franco eluding Ruffalo's advances… all using slight of hand card throwing!
The home video finds not only the theatrical version of the film, but also Leterrier's director's cut, featuring 16 minutes of previously unseen footage. Given that the film has the most astonishing of illusions (overseen by the master, David Copperfield) -- this is truly a case where more is definitely merrier.
Given that this is a film that is so purely a director's baby, the Leterrier commentary track is utterly priceless. To hear how he interwove the film's drama with illusions and suspense elicited from the heists themselves, is simply a lesson in filmmaking at its finest.
Other bonus features that enthralled us were the Now You See Me Revealed featurette. Everyone wants to know how a magic trick is achieved, but few ever get to see it. With the "Revealed" bonus feature, Leterrier takes us behind the curtain and shows how he achieved some of his movie magic.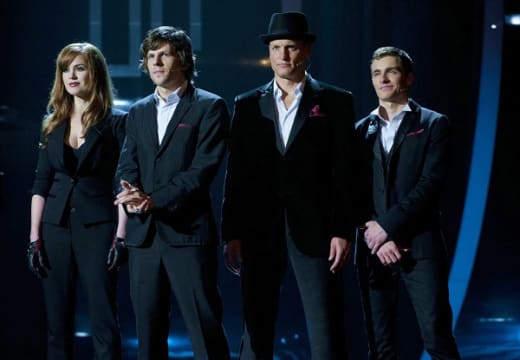 And for fans of magic and illusion, A Brief History of Magic featurette is not to be missed. Given the nature of the film and the incredible thought that went into its creation and execution, it is fascinating to see what aspects of the history of magic filmmakers and stars of this film were most inspired by.
We aren't the biggest fans of deleted scenes. Most often, they are removed from the film for good reason. But the deleted scenes on Now You See Me… only enhance the viewing experience because the entire film leaves you wanting more, and what better way to get that, than to see what didn't make the cut.