Vin Diesel first tackled the anti-hero Riddick in 2000's Pitch Black and then followed that up with its big budget sequel The Chronicles of Riddick in 2004. It's been almost ten years since Diesel last "saw in the dark," and with the arrival of Riddick in theaters, this is one case where a long time passing between a franchise's chapters is actually quite a good thing.
Proof was in the pudding from the opening moments of the first Riddick trailer.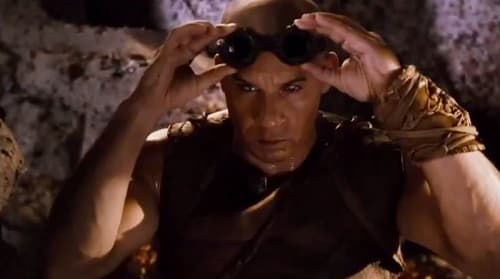 What also is a benefit -- although Diesel and series creator David Twohy might have disagreed at first -- is that this film is independently financed. Twohy wrote and directed the third film in the series with Diesel serving as co-producer, and the duo were free to make the Riddick movie they wanted. And for fans of the franchise, that is the best news of all.
We meet Riddick in the opening credits on a desolate planet. We're not sure how he got there but with the effective use of voice-over narration by Diesel, we learn that he was a reluctant ruler, who was banished from his home by Karl Urban's Vaako. Left for dead, the anti-hero rises again. And how ironic it is through his hand punching through the dirt – as seen in this Riddick red band trailer -- that he rises like a phoenix and grabs an alien-looking creature by the throat that pretty much resembles a phoenix!
Within the first 15 minutes, peril lands multiple times for Riddick. He must avoid pratfalls at every turn to make it to what seems like an outpost on the horizon.
Twohy and Diesel have established early in their Riddick third chapter that nothing comes easy for him. He manages to not only find his way there, but also makes a canine-like friend along the way. How Riddick does so on both accounts only further draws the audience into the budding story. And as someone who completely cherishes the unconditional love and protection of a dog... this is a brilliant stroke by Diesel and Twohy. Might we even say, it shows a human side to him!
Once at the outpost, he sets off a beacon. Some may see it as a rescue. But, if you know the Riddick backstory, you know that this is a man who is perceived as a wanted fugitive. Bounty hunters will be coming… and he will be ready.
Among those that land is a group led by Boss Johns (Matt Nable), with his number two -- Dahl (Katee Sackhoff) -- who has his back at every turn. There is a backstory to Johns' character that we won't spoil, but what Movie Fanatic can state is that Sackhoff is impeccably cast as the most level-headed one of the bunch, who still can take your head off if she must.
But, Riddick movies are not about the people that come to get the universe's most wanted man. They are all about Vin Diesel and this character he first played 13 years ago that fans cannot get enough of. The actor has not lost his touch playing the man who can see in the dark. And believe me, there is ample opportunity in this thrill-fest for him to use that power. With the arrival of massive rains, there is a horror lurking below the surface that will not only challenge Riddick, but everyone who is there seeking to capture him.
Twohy also clearly has not only a passion for the character, but for this universe that he created. Between the writer-director and his star/co-producer, Riddick delivers a film for its fans that has been a long time coming.
Is it a great movie that belongs with the best of the year? Not really, but this is a Riddick movie we're talking about here, and for audiences who adore Diesel as the otherworldly man who kicks some serious ass, our Riddick review finds this is a film that is quite like a return to form.
Where The Chronicles of Riddick felt a bit overblown, this third chapter harks back to a little movie that could called Pitch Black. And it also plays up the very reason we enjoyed the series in the first place: Vin Diesel is Riddick. Period.