Fresh off the release of yesterday's RoboCop trailer premiere, Columbia Pictures and MGM have released seven new photos from the futuristic action thriller.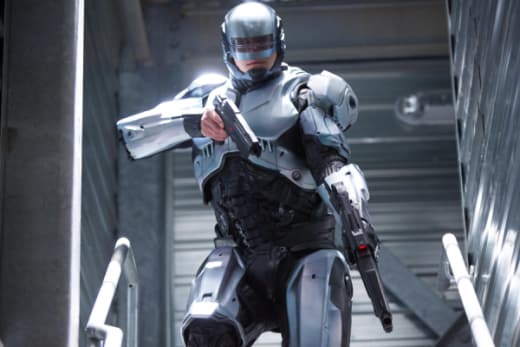 The photos are wide-ranging and actually show the cast as a whole and not simply the RoboCop in action. But, don't worry Robo-fans… Joel Kinnaman as RoboCop is also in the fight in a few of these new pics.
We also get a first real look at the outlandish hairstyle of Samuel L. Jackson, who plays the leader of a corporation that is leading the way in robotics technology. Jay Baruchel (This Is the End), Michael Keaton and Gary Oldman also get the spotlight in a few new stills below.
And in a romantic moment, that we're sure is rare in the RoboCop remake, star Joel Kinnaman and his onscreen wife Abbie Cornish share a private tete-a-tete. That is… before his life is turned into a robotic force for justice.
RoboCop arrives to save Detroit, circa 2028, on February 7, 2014. And check out what the RoboCop stars at Comic-Con said to Movie Fanatic about their reboot.