Star Trek Into Darkness DVD Review: Does it Boldly Go?
by Joel D Amos at . Updated at . Comments
Star Trek Into Darkness lands on DVD and Blu-Ray and director J.J. Abrams' second foray to boldly go where no man has gone before was a bona fide blockbuster in the theaters. And, according to our Movie Fanatic theatrical Star Trek Into Darkness review, we appreciated the effort as well. The big reveal in Abrams' follow-up to 2009's Star Trek is that Benedict Cumberbatch was stepping into some pretty big shoes. Before the film hit theaters… it was all anyone could talk about.
Was Cumberbatch updating the character of Khan made famous by Ricardo Montalban?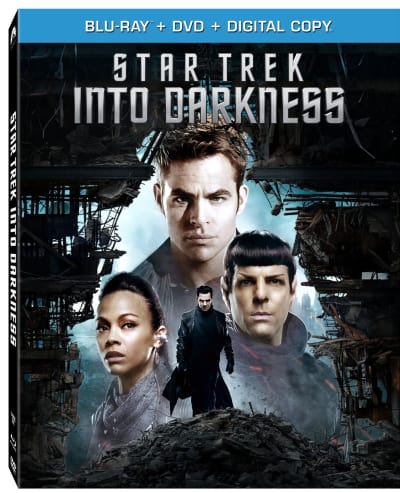 Now that the film has come and gone from theaters and has arrived on home video, that mystery is gone. In fact, it even says on the back of the DVD and Blu-Ray cover that Cumberbatch is Khan.
That, of course, set off a firestorm with fans in terms of Abrams "re-doing" sacred ground that is borrowing heavily from Star Trek II: The Wrath of Khan. Movie Fanatic had no problem with the effort… and this from someone who thinks that that early 1980's movie is the best of the series.
In the end, Star Trek Into Darkness is a balls-to-the-wall thrill ride that never lets up from its opening moments where Kirk (Chris Pine) and Bones (Karl Urban) are trying to outrun an indigenous race before they are discovered, all while Spock (Zachary Quinto) is trying to stop a volcano from ending their existence.
As teased in the Star Trek Into Darkness trailer, someone from within Starfleet is acting as a terrorist. Of course, we all know now that is Cumberbatch's character. And all of this hubbub about the sacrilege that is Khan in the Star Trek universe can be frankly dismissed as the UK actor who was previously best known for playing Sherlock Holmes, was astounding. The thing that made Khan by Montalban so amazing is that it was his performance that was legendary.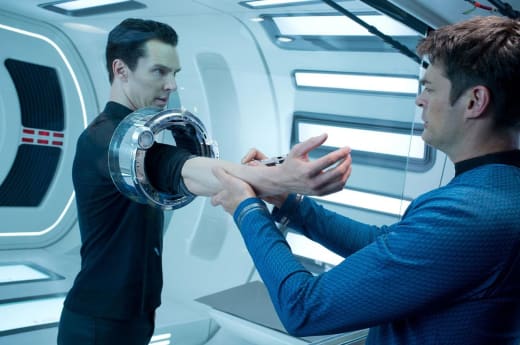 And frankly, Cumberbatch is equally as powerful. That might not be a popular sentiment among Trekkies, but I've considered myself a fan of the series and never a super Star Trek fanatic. Therefore, perhaps I can distance myself and see that each actor brings something astounding to the role.
As for the movie itself, it is fast-paced, uses its characters effectively and Movie Fanatic found it an utter joy of a summer movie experience that is not lost on the home video transfer. In fact, it actually enhances it. We appreciated the ability to rewind scenes and watch them again and delve deeper into the Abrams story with the bonus features.
Now, there aren't a ton of bonus features, but there are plenty that should satisfy the legions who clearly appreciated the movie and turned it into a blockbuster. On the big and small screen, Abrams' ability to create the inside (and outside) of the Enterprise is pure magic. Movie Fanatic got the bonus feature and is proud to bring it to you below on how the director and his crew were able to effectively create a set that he says is integral to his actors giving their best performance.
The Creating the Red Planet feature is also fascinating in how it shows the making of an entirely new world in the Star Trek universe and the thoughts and creative juice that went into it. We also appreciated the behind-the-scenes look at how the attack on Starfleet was achieved and the technical wizardry that was required to make Cumberbatch's Khan and his revenge folly even fiercer.
Audiences also got a view of the Klingon world (which we hope they return to for future editions of the franchise). In The Klingon Home World, the documentary takes viewers on a journey of how that world was painstakingly crafted.
Then, lastly, we have to highlight a bonus feature that is a pure stroke of genius. The Enemy of My Enemy featurette takes us inside the decision to have Khan be the villain, the thought processes behind hiding that reveal and how they managed to keep it a secret until the day Star Trek Into Darkness hit theaters.