The Bling Ring DVD Review: Living the New American Dream
by Joel D Amos at . Updated at . Comments
The Bling Ring has landed on DVD and Blu-Ray and the larger-than-life true story astounds in several ways. First, Sofia Coppola as a director was an interesting choice to helm the story of a group of teens who were so obsessed with celebrities that they broke into their Hollywood homes to steal their loot. They robbed them not because they needed the money. They were already well off. The heists happened because they wanted to feel closer to the stars.
The second thing that rivets is the performance of Emma Watson. The former Harry Potter movie star loses her British accent and impeccably channels an entitled American youth who revels in being bad, and that is so good for the audience.
As teased in The Bling Ring trailer, the story follows a half-dozen high school kids who follow every gossip site and celebrity news magazine for the latest information on their favorite celebrities. From Paris Hilton to Lindsay Lohan, these kids live and breathe the goings-on of these stars. So, the next logical step is to break into their homes, right?
We reported in our theatrical The Bling Ring review that the story pulsates with power, even if you can't believe you are enjoying watching these kids do what they do. As this is a true story, we all know what happens: They get popped. But the film is almost even more powerful at that plot point because it shows the utter lack of remorse these Bling Ring (that's what the local media nicknamed them) members have. As stated in our The Bling Ring cast exclusive interview, the actors were also taken with the real robbers' reactions to getting caught.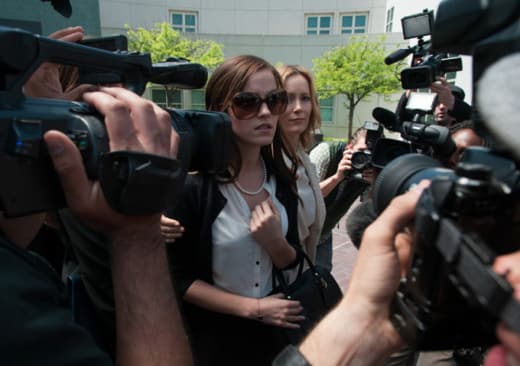 Their thoughts were in unison: Does the celebrity know who I am now?
The Bling Ring is not only a reflection of our celebrity-obsessed society, it is also a study in a generation that seems to live vicariously through others, instead of blazing a path all their own.
That fact is emphasized on all three of The Bling Ring Blu-Ray and DVD bonus features. Particularly interesting is Making of The Bling Ring: On Set with Sofia, Cast and Crew. It is there that the enormity of the social impact of the film is laid out by the cast, but especially Coppola, who keenly knows her characters, and their real life personas. The Behind the Real Bling Ring featurette also compels in that it illustrates how, despite how unbelievable it is, what happened was as real as it gets.
And lastly, a terrific treat for viewers after witnessing the film is the short doc Scene of the Crime with Paris Hilton. Hilton not only allowed Coppola to film those robbery scenes in her home, but she makes a cameo. And after watching the movie as a whole, hearing Hilton's reflection on the entire affair amazingly puts the entire story in perspective.