The Croods Directors Dish DVD: Kirk De Micco & Chris Sanders Go Back in Time
by Joel D Amos at . Comments
For The Croods directors Kirk De Micco and Chris Sanders, their animated film set the bar pretty high from the film's first moments. The opening sequence set a lot of the dials as to the boundaries of the film. "Just jumping into an action sequence was new," Sanders said on a recent visit to the DreamWorks animation campus.
The film is arriving on DVD and Blu-Ray October 1 and De Micco admitted that it has been a long time coming -- as with most animated movies by nature -- but this one started out a little different than what viewers saw in the theatrical version that lands on home video tomorrow.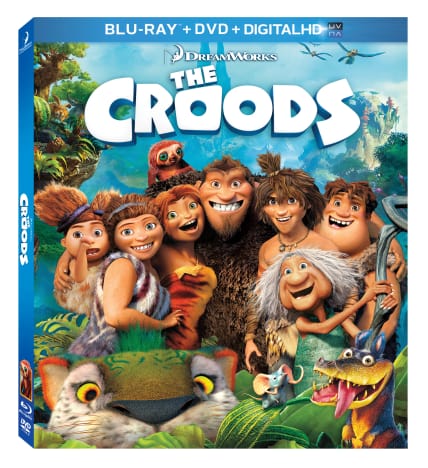 "The whole project started at DreamWorks but back in 2004. I started writing with John Cleese but it was more of a road trip movie with buddies, two guys," De Micco said.
"Then, Chris came on in 2007 and we were still working on that idea for a while. Then Chris went to How to Train Your Dragon for 14 months and I said, 'What if we just made it one family who loses their cave and goes on a road trip to find a new cave and on their way, they become us?'"
Sanders then gazed at his partner. "It would have helped if you had said that earlier," he said, and everyone laughed.
As seen in The Croods trailer, the film is led by Nicolas Cage… who plays patriarch Grug. "We always had Nick Cage's voice in mind when we were working on Grug," Sanders said.
The film follows Grug and his caveman family (the last of their kind) that includes the vocal talents of Emma Stone as his daughter, Catherine Keener as his wife and Clark Duke as their son. Ryan Reynolds voices Guy, a more evolved human being who plays a role in helping the Croods escape their cave and survive another day as the world is rapidly changing around them.
Sanders knew that Cage could hit it out of the park -- something we clearly agree with from our theatrical The Croods review.
"It's a kind of difficult role. He's got a lot of rules and could come off unlikable if it weren't Nick. Grug is so stern especially at the beginning, and Nick has this put-upon, beleaguered quality that you can't really get upset at him. You just feel the weight of the world on his shoulders in everything he says, so I think that made him likable. He's barking all these orders and you see that he's just a guy trying to get by."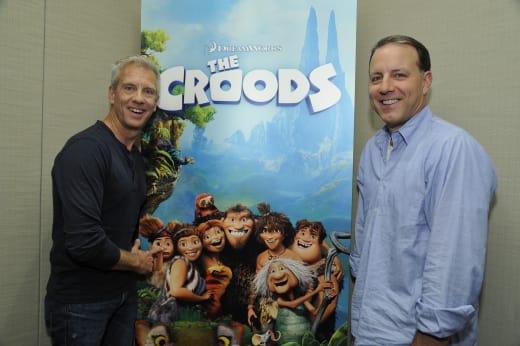 And Stone also simply kills it as the teenager, who may be from another era… but still possesses the same traits exhibited by those inhabiting those awkward years in modern times. The filmmakers were thrilled to get her, especially by casting her before she became a household name thanks to roles in Easy A and The Amazing Spider-Man.
"We didn't know in the very beginning that she was going to be as popular as she was when the movie came out," De Micco said.
"We suggested Emma Stone for the character of Eep based on a movie we loved called The House Bunny. She has a great voice and we loved her character. There's a universal relatability in a great voice like that. She more than brought this character to life."
Among the biggest challenges De Micco and Sanders faced down on The Croods was building a world that doesn't exist. That isn't an unusual task for animated film directors, but when dealing with a landscape that is firmly planted within a reality that is prehistoric man, it was almost that there was too much they could choose from.
"It took many years because the entire film is exteriors -- even inside their cave is an exterior. Organic things are very labor intensive to create," Sanders said.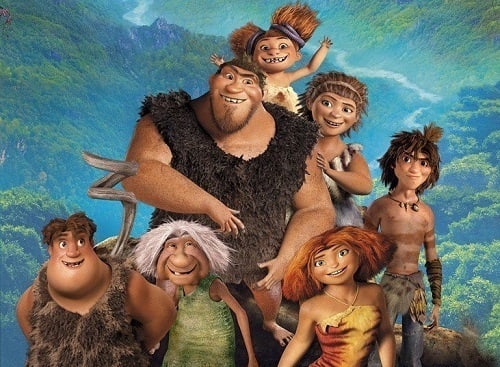 "The thing that no one ever sees is how many meetings would just be to talk about what our leaves were going to look like. Are they going to look like rubber? Are they going to look like real leaves? If one of the cavemen brushes against a leaf, is it going to move out of his way? Just building the world -- it's an unimaginably big job."
De Micco adds his two cents while giving his thoughts on the already green-lit The Croods sequel.  "We are excited about stepping into the second movie," he said. "We know the world now. We know what the boundaries are."