The Family Exclusive Giveaway: Win Fandango Gift Card & Mob Merchandise!
by Joel D Amos at . Updated at . Comments
Get ready to join The Family as Movie Fanatic presents an exclusive giveaway to celebrate the arrival of the Robert De Niro flick -- directed by Luc Besson -- in theaters September 13. In the film, teased in The Family trailer, De Niro plays a mobster who was forced to turn on his crime family cohorts and has since been placed in witness protection.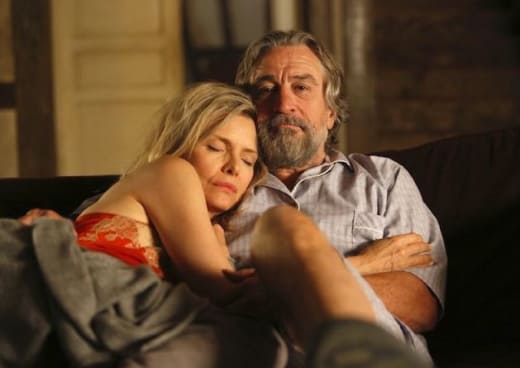 As the film begins, we meet De Niro's Giovanni (or Fred as he is now known!) and his wife (Michelle Pfeiffer), daughter (Glee star Dianna Agron) and son (John D'Leo) as they are being transferred from witness protection in the south of France to Normandy. Seems the clan cannot stay out of trouble (as seen in these The Family clips)… and that is one big headache for the U.S. Marshall played by Tommy Lee Jones.
One lucky Movie Fanatic reader will received a $30 gift card to Fandango to check out De Niro's latest foray into the mob world, a gun-shaped ice cube tray, famous gangsters playing cards, a The Family BBQ apron (when you see the movie, you'll see why this is perfect!) and a The Family brass knuckle mug!
Use the widget below to enter on Facebook or Twitter. There are three unique ways to enter, and by entering all three ways you can increase your chance at winning! And enter now, this prize pack's winners will be announced September 27.