The Lone Ranger and Tonto are ready to saddle up and come home on DVD and Blu-Ray, just in time for Christmas. Walt Disney Home Entertainment announced that the Jerry Bruckheimer-produced and Gore Verbinski-directed action fest, The Lone Ranger, will arrive December 17. Johnny Depp stars as Tonto and Armie Hammer is the Lone Ranger in the big screen reimagining of the hit TV series that got its start as a radio serial.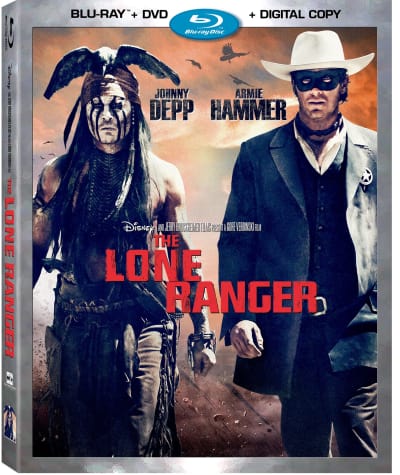 As The Lone Ranger trailer previews, this is a story that deals with the expanding railroad in America and the exponential effect that had on the country, especially Native Americans. This is a story that is told from the point of view of Depp's Tonto, and as such, is a little different than past incarnations of the masked hero.
The Lone Ranger also stars Ruth Wilson, Helena Bonham Carter, Tom Wilkinson and William Fichtner. Check out more of what we thought of the film in our theatrical The Lone Ranger review.
As far as bonus features on the DVD and Blu-Ray release, the most fascinating sounding has to be Riding the Rails of The Lone Ranger. The railroad is almost a character unto itself in Verbinski's action flick, from grounding the story to some of its most thrilling action sequences. The bonus feature looks at how a five mile track was built from scratch using real train engines and cars from the period to create an authentic look.
Armie's Western Road Trip follows Hammer as he takes viewers on a tour of the set, while Becoming a Cowboy showcases how the cast had to learn everything from shooting a gun to riding a horse. It's cowboy camp for Hollywood stars!