Before he can return to the world of Sherlock Holmes as Moriarty, as he clearly wishes to from our Jared Harris exclusive interview, the UK actor has something else more firm on his plate. News has arrived that Harris has been cast in Sherlock Holmes director Guy Ritchie's latest film, The Man from U.N.C.L.E.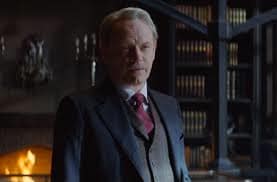 Harris is the latest stellar actor to join Ritchie's cast including Man of Steel star Henry Cavill, who will play Napoleon Solo, Armie Hammer (The Lone Ranger) is signed as Illya Kuryakin and Hugh Grant is on board to portray Waverly.
The official synopsis has also been released to give audiences an idea for what they can look forward to from the production set to start shooting September 9.
The Man from U.N.C.L.E. Synopsis:
Set against the backdrop of the early 1960s, at the height of the Cold War, The Man from U.N.C.L.E. centers on CIA agent Solo and KGB agent Kuryakin. Forced to put aside long-standing hostilities, the two team up on a joint mission to stop a mysterious international criminal organization, which is bent on destabilizing the fragile balance of power through the proliferation of nuclear weapons and technology.
The duo's only lead is the daughter of a vanished German scientist, who is the key to infiltrating the criminal organization, and they must race against time to find him and prevent a worldwide catastrophe.