Thor The Dark World Poster: Natalie Portman & Chris Hemsworth Huddle
by Joel D Amos at . Comments
The character poster has become something of a regular thing here in Hollywood. Marvel is never one to miss out on this trend as we recently got Thor: The Dark World character posters for Thor and his brother Loki -- and yesterday premiered the villainous Malekith character poster.
Today, although it is certainly more romantic than those previous ones, one would never call the Thor and Jane Foster character poster something that spurs thoughts of love. In fact, it's more a couple huddled against a brewing storm.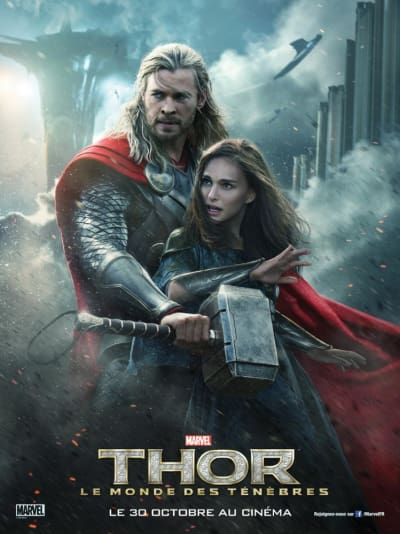 And that is frankly perfect given the storyline teased in the Thor: The Dark World movie trailer.
Thor: The Dark World hits theaters November 8 and finds Thor and Loki having to work together to battle back against a common foe that not only seeks to destroy Asgard, but much of the universe as well… including Foster's Earth. It was teased in the first Thor: The Dark World trailer that Portman's Foster is back and given that she wasn't in The Avengers -- we're curious what kind of reaction she will have to the Battle of New York.
I mean, I know Thor had to fight to save the world (again), but could he have at least called before heading back to Asgard with Loki? I mean really.