Vin Diesel on Future of Movies: Disagrees with Spielberg & Lucas
by Joel D Amos at . Updated at . Comments
Over the summer, Movie Fanatic reported that Steven Spielberg and George Lucas Predict Hollywood Metldown. They were saying that the blockbuster was killing the movie industry and driving ticket prices up and sending films, like Spielberg's Lincoln, to the point where they could only appear on HBO. When we caught up with Vin Diesel to talk about his box office winning Riddick, the man who knows a thing or two about blockbusters certainly wasn't at a loss for words about the dynamic duo of filmmaking.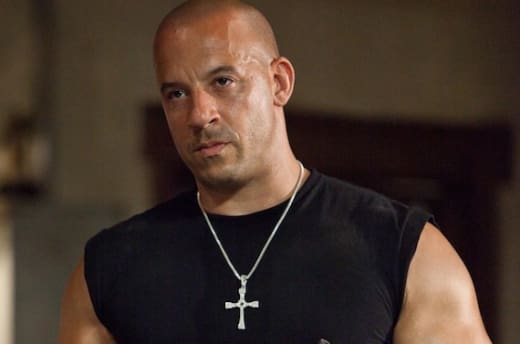 "Not on my watch," Diesel said about the blockbuster's predicted death. "It won't implode while I'm around, I promise you that. I'd love to talk to them. We should get Lucas and Spielberg over here and really talk it out, face-to-face and mano-a-mano. I love Steven, and I'm a huge fan of George Lucas. At the risk of sounding naive, I don't see that in the immediate future."
When it comes to Hollywood's next decades, what does Diesel see? "I envision the future sunny and with love, harmony and oneness," he said and laughed before getting serious. "I think Hollywood is changing."
Diesel cited his long relationship with Universal (he also has the Fast and Furious movies there too, along with Riddick) as proof that blockbusters and their sequels aren't simply cash cows that simultaneously vacuum up audiences' money while "killing" Hollywood creativity and productivity.
"I don't know when the last time was that Steven Spielberg or George Lucas made a movie with Universal, but I can tell you that Universal is leading the charge. They're looking at film differently. They're planning ahead in a way that I've never seen a studio do before. They're believing in a relationship between fan and film franchise, in a new way. They're more receptive to an audience, in part because of social media, in a way we've never been allowed and in a way that Steven never could have imagined," Diesel said.
Diesel reported that Lucas might have looked at the world differently if he had social media when making his blockbuster. "When Lucas was doing Star Wars, he didn't have a fifty million person Facebook following where he could just sift through feedback to try to get an idea for what he was going to do next," Diesel admitted.
The actor believes that by adding social media to the filmmaking mix, that they are actually enhancing the blockbuster, producing a better product that will do nothing but strengthen the bond Hollywood has with the people who buy tickets.
"It's a luxury we have today. The thought of listening to an audience was unheard of, five years ago. Movies were that thing where you went and bought a ticket and you never got to talk to the person that made it -- and you never got to talk to the creator or the producer of those films. You bought the ticket, shut up and sat down. You could never comment about it or have a relationship with it," Diesel said.
"If Clark Gable had a Facebook page, there would have been a Gone with the Wind 2!"