X-Men Days of Future Past: Jennifer Lawrence Says Mystique is "Mutant and Proud"
by Joel D Amos at . Updated at . Comments
Perhaps they should write a song about Mystique, given what Jennifer Lawrence said about her character being "Mutant and proud!" It's got a nice ring to it, no? Lawrence (seen most recently in that incredible Catching Fire trailer) was talking about her just completed role in X-Men: Days of Future Past and she admitted that her character has literally grown comfortable in her own (ever-changing) skin.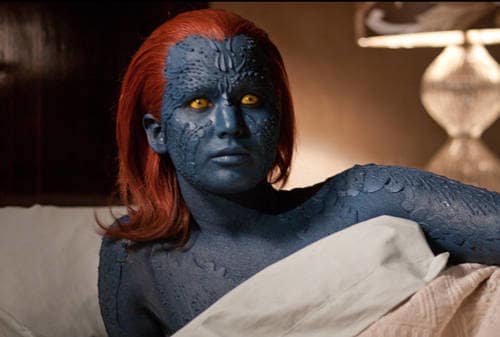 Lawrence also admitted that, like we saw in this Jennifer Lawrence in full makeup photo, there's quite of lot of absence of clothes-wearing on her part in the sequel to X-Men: First Class, but she does enjoy the period garb she did get to wear.
"I'm naked, but when I do get to wear clothes. I love the '70s outfits. Some of the Mystique look is a little different, but we're still using the same paint," Lawrence said to UK's SciFiNow. "But she's different in this film too. She was struggling -- like a lot of normal humans -- with the way she looked. She was covered up a lot in the first movie, but this time she is Mutant and proud."
Judging by how excited the entire X-Men: Days of Future Past cast was at Comic-Con, the entire gang ought to have had a blast making this film that combined the old and "new" worlds. And you know what they say, if the actors are having fun onscreen… so too will the audience!
It's just a shame we have to wait until May 23, 2014 to see the Bryan Singer film!