When After Earth hit theaters this summer, it featured the return of a father and son team that first worked together on The Pursuit of Happyness, Jaden and Will Smith. The sci-fi story featured a world 1,000 years after our time, where the Earth had been abandoned for greener (and safer) pastures.
The After Earth trailer shows Smith portraying a highly decorated leader of the air corps in this future world with Jaden portraying his son trying to live up to his father's legacy. Sounds kind of like their real life, no? Well, After Earth has landed on DVD and Blu-Ray, and given that the film got lost in a crowded summer movie season, it should find an audience anew now that it is on home video.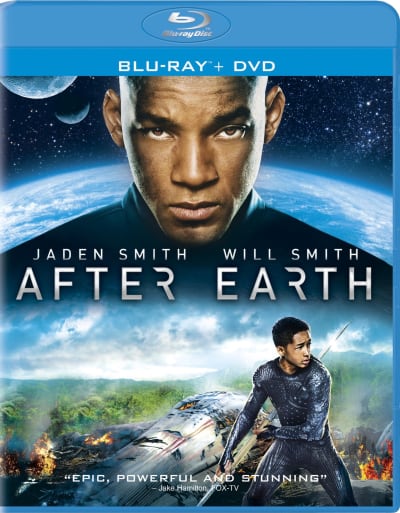 When it landed in theaters, we wondered "What happened to M. Night Shyamalan?" because in advertisements, such as the After Earth poster, his name was nowhere to be found. It seemed as if the studio was running away from his most recent perceived failures instead of embracing his highly successful past. Either way, the film's lack of success could again be attributed to the filmmaker, but the problem lies elsewhere.
After Earth is entertaining enough, and features visuals and sci-fi action that are top notch. Plus, checking in on our planet a millennia after we left is a fascinating premise, and the landscape production designers crafted is beautiful… and scary.
As our After Earth review reported, the tandem of Smith father and son is powerful. Those emotions between the two are all too real when their ship crash lands on future Earth and they are the only survivors. Smith Sr. is hurt and it is Smith Jr. who must head out into the dangerous world to set off a beacon that will summon help.
What is noticeably absent from the bonus features on our Blu-Ray/DVD combo pack is a director's commentary. Perhaps Shyamalan is being pushed out of the way yet again? Whether he is or not is not the point as there are no commentary tracks, even from the stars.
But what is the selling point of After Earth is the father-son tandem of Will and Jaden Smith. Therefore, the highlight of the home video release bonus features is A Father's Legacy featurette. It looks at Will and Jaden on and off set and it's easy to see that the apple does not fall far from the tree!
Given the landscape that is Earth 1,000 years after our present, two featurettes prove to be almost even more fascinating than the movie itself: 1,000 Years in 300 Seconds and The Nature of the Future. Both featurettes look at the creating of our planet as never seen before. There are sci-fi versions of our future selves, but few have captured scenery as is accomplished in After Earth.
Also, on the Blu-Ray itself, there is a terrific alternative opening sequence to the movie that gives added insight into the entire film as a whole.