Given the talent of the Anchorman 2 cast for improvising material that is completely usable, what to put in the movie and what to leave out is one of the biggest challenges for director Adam McKay. In fact, he says he has so much for Anchorman 2: The Legend Continues that there could be a whole nother movie! Judging by what we've seen in the most recent Anchorman 2 movie trailer, that is not hard to believe.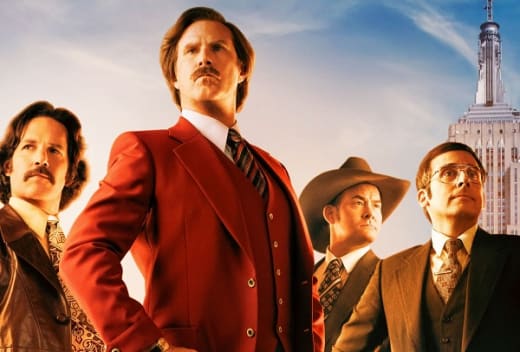 "We did so much improv on this one that we can literally replace every single joke in the movie and put in alt scenes and alt improv runs," McKay told Empire UK. Currently, the film sits at 113 minutes, which is the longest in his career and with his multiple collaborations with his star Will Ferrell.
That's longer than the first Anchorman, Talladega Nights and Step Brothers. "I think the editor's working on it right now, with 250 new jokes. I think it would be really funny to put it in theatres for midnight showings," McKay said.
"I know that I, personally, if I loved a movie and someone told me that... like if Airplane! had been released with all-new jokes, I'd be like, 'You've got to be (expletive)ing kidding me!' I'd see it in a second."
Perhaps we can expect what he did with the first Anchorman and he'll release a straight-to-DVD and Blu-Ray part two, if you will. That one was called Wake Up, Ron Burgundy, so perhaps this one could be called Stay Awake, Ron Burgundy. Either way, we want to see ALL that footage.
Anchorman 2 hits theaters December 20 with Ferrell returning with Steve Carell, Paul Rudd and David Koechner, along with new cast members Harrison Ford and James Marsden. And of course you can see Veronica Corningstone herself as Christina Applegate also returns.