Bruce Campbell was at a Nashville Comic-Con, and when asked about the possibility of seeing his most iconic character, Ash, returning in a long-talked-about sequel to Army of Darkness, he was his usual coy self. That is, before admitting that it was happening.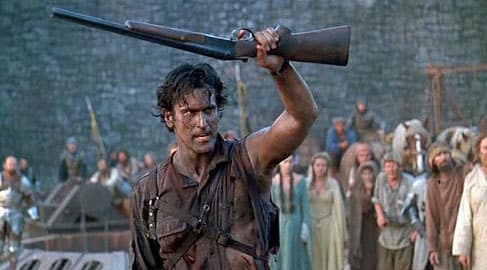 "Ash would have to stop occasionally from chasing some deadite to catch his breath," he said. "Maybe we could do that, I guess. That would be exciting. Fight in a walker. That would be alright. Hit them with my cane. Fake them out, have a fake heart attack, distract a zombie. I like it."
That is in no way a confirmation in any sense of the word. While doing press for his work as producer on last April's Evil Dead, he was also asked about Army of Darkness 2. Honestly, things haven't moved any closer to a green light, but then again, Campbell's Burn Notice is now done… perhaps he's looking for something to do!
Then, there was this exchange when he was asked more specifically at the Nashville Comic-Con. "Are you going to make a sequel to Army of Darkness?" a fan wondered.
"Alright sir," he said and paused. "The answer is yes."
Whether director Sam Raimi will return or not… now that is the real question.