Who would have thought that of all the films that would knock Gravity off its perch atop the box office charts in the last month, it would be Johnny Knoxville and his Bad Grandpa? Jackass Presents Bad Grandpa did just that by taking in $32 million in its first week of release.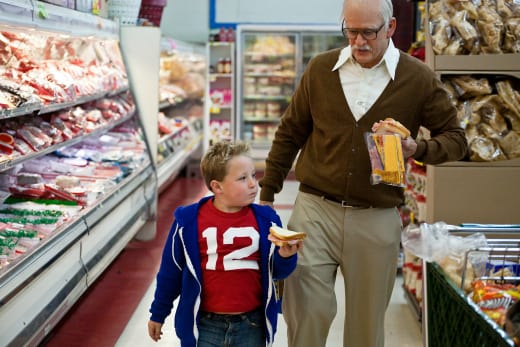 Gravity did not fall off too badly from its blockbuster stand that has lasted for almost a month now. In its fourth week of release, the Sandra Bullock-starring, eye-popping space thriller added another $20.3 million to take its total to $199.8 million.
Another Oscar contender, Captain Phillips, continued to build an audience with its third place finish. Tom Hanks' portrayal of the real title character attracted another $11.8 million to take its overall haul to $70 million.
The Counselor, Ridley Scott's latest, bucked some half-hearted reviews and scored fourth place with $8 million. Closing out the top five is the only animated movie out there for families, Cloudy with a Chance of Meatballs 2. That knocked the Sony Pictures Animation flick over the $100 million mark in total gross.
In fantastic news for the terrific 12 Years a Slave, the lauded movie broke into the top 10 for the first time with its eighth place spot and $2.2 million.
Box office Top 10:
1. Bad Grandpa, $32 million
2. Gravity, $20.3 million
3. Captain Phillips, $11.8 million
4. The Counselor, $8 million
5. Cloudy with a Chance of Meatballs 2, $6.1 million
6. Carrie, $5.9 million
7. Escape Plan, $4.3 million
8. 12 Years a Slave, $2.2 million
9. Enough Said, $1.6 million
10. Prisoners, $1.1 million