Before Midnight DVD Review: Julie Delpy & Ethan Hawke are Better with Age
by Joel D Amos at . Updated at . Comments
Before Midnight reunites Ethan Hawke and Julie Delpy two decades after they first met on that fateful train in Before Sunrise. It also brought them back together with writer-director Richard Linklater, whom the two co-wrote this film with while holed up in an apartment, and the result of this brilliant teaming is out now on DVD and Blu-Ray.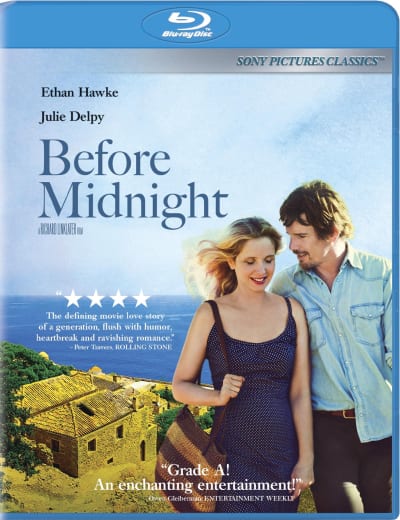 Before Sunset arrived in 2004, and much has happened since then.
As shown in the Before Midnight trailer, Delpy and Hawke's Jesse and Celine now have two kids and they are living blissfully in Europe. As is the case with the previous "Before" installments, these two fire dialogue off with a force and power that is welcomed in a world where cinematic experiences are usually dominated by explosions and action.
To see the action and drama solely exist within the words from the script and executed by two actors firmly engrossed in these characters they know so well… is pure bliss.
Our theatrical Before Midnight review found the film a powerful study in relationships in the modern era. And Hawke, Delpy and Linklater are at the top of their collective games. It was an easy choice to be on our Top 10 of 2013 so far list and we're pretty sure it'll make the cut when the calendar changes from 2013 to 2014.
These "Before" films have a reputation for being so "talky," and if that isn't your thing, then you might find the movie a little long. But, it is so rich! And witnessing the lush landscapes of Greece with the deeply moving and emotionally tugging prose of Linklater, Hawke and Delpy, you would be hard-pressed to find a better example of actors truly "living" their lines than in Before Midnight.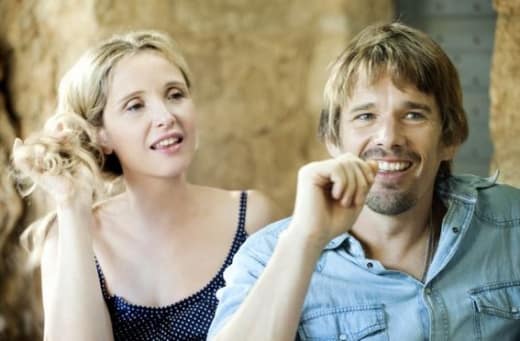 When it comes to extras, there is not much, but what is offered gets right to what is so fabulous about the Before Midnight experience. The commentary track is from all three principals involved in the film: Hawke, Delpy and Linklater. To hear these three talk freely while watching their work unfold in front of our very eyes is an utter treat of the highest order. They finish each other's sentences. Clearly, these are three artists who have found a kinship that has only increased with time.
The Revisiting Jesse & Celine bonus featurette is also compelling as it goes behind the magic that is where we find this couple, twenty years after they first met. And lastly, the Q&A with Hawke, Delpy and Linklater is just even more icing on an already impeccably delicious cinematic cake.