Catching Fire: Francis Lawrence to Play up Love Triangle
by Joel D Amos at . Updated at . Comments
There is an aspect of the entire The Hunger Games saga that was kind of downplayed in the first film… the pull of the heart of Katniss (Jennifer Lawrence) by Peeta (Josh Hutcherson) and Gale (Liam Hemsworth). Catching Fire director Francis Lawrence has admitted that will not be the case this time out.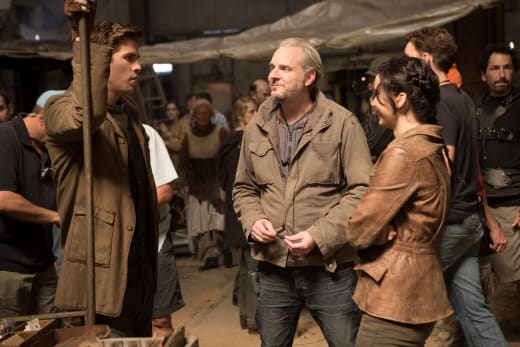 "I felt the love story in general was a bit buried in the first one," he said to NY Magazine. "I wanted to bring the love story to the surface. And when I say love story, I mean the triangle."
The man who helmed I Am Legend and Water for Elephants also had an issue with the first film's director, Gary Ross, and his use of a less than steady camera. "The shaky cam will be gone," he promised. "I think a lot of people will be happy to hear that!"
Why yes, Francis, yes they will.
You may have thought that director Lawrence had his hands full when he signed on to helm The Hunger Games: Catching Fire after the blockbuster success of The Hunger Games. But, the helmer admitted, he felt much of the heavy lifting had already been done.
"If you can have Philip Seymour Hoffman, get Philip Seymour Hoffman! And he loved the books, so he signed on -- same with Jeffrey Wright, same with Julianne (Julianne Moore cast in Mockingjay). If you can just get those amazing actors, then that's 80 percent of my job."
Judging by that powerful most recent Catching Fire trailer, Lawrence could not have been a better choice to step in for Ross.
Is it November 22 yet? Because we're ready for Catching Fire!