After taking in over $800 million in the worldwide box office, Fast and Furious 6 is making plans to come home. Universal announced that Fast and Furious 6 will land on DVD and Blu-Ray December 10.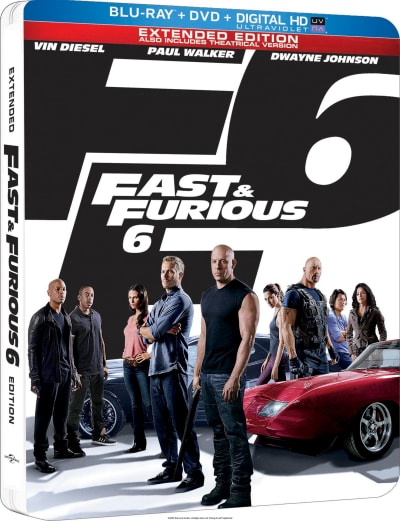 This time out, as teased in the Fast and Furious 6 trailer, Dwayne Johnson and Vin Diesel join forces and the gang heads to London. Johnson promises Diesel that if he and his gang of street racers -- including Paul Walker, Tyrese Gibson, Chris "Ludacris" Bridges -- help him bring down an international criminal mastermind, he will guarantee their full pardons for everything they've done before. Kind of a sweet deal, no?
Oh, and did we mention that Michelle Rodriguez is back?!
As we stated in our Fast and Furious 6 review, this is one awesome ride, and there is something about the streets of London and its snarled traffic that make some of the car chase scenes some of the best of the series (check out our Top 10 movie car chase scenes for more).
With the arrival of the DVD and Blu-Ray, fans will get even closer to the action than ever before, and the veil is lifted on the magic. One can see from numerous featurettes how the action was so amazingly achieved.
And as everyone gears up for Fast and Furious 7, let's see what bonus features are on Fast and Furious 6:
Extended Version of the Film
Take Control: Vin Diesel, Paul Walker, Michelle Rodriguez and director Justin Lin appear at key moments throughout the film, offering observations and reflections on the movie, behind-the-scenes footage and more.
The London Chase: Gives viewers a front-row seat for the filming of a sprawling car chase through the streets of one of the world's most historic—and congested—cities. Examines how director Justin Lin and his team pulled off car-flipping mayhem on a breathtaking scale.
Highway Heist The Convoy Attack: A first-hand account of a meticulously planned and executed action sequence, as Dominic's gang saves the day in this high-velocity battle featuring a tank, an armored cargo carrier and a harpoon.
The Antonov Takedown: An exploration of what went into creating Fast & Furious 6's spectacular finale sequence, featuring the world's largest plane, including first- and second-unit filming, special effects, visual effects, car rigging, stunt drivers, green-screen shooting and more.
Dom and Letty Race Again: Vin Diesel and Michelle Rodriguez reunite on screen.
Gearhead's Delight: From the shop to the test track, to the set and back again, a look at the latest hot cars showcased in Fast & Furious 6. Narrated by car lover Paul Walker, this piece features Dom's latest Charger, Brian's Nissan Skyline GTR, the BMW M5's, the Alfa Romeo and the classic cars from the film's car-auction scene.
The FLIP Car: Provides an inside look at the Fast franchise's newest mind-blowing vehicle—the pivoting FLIP car. Dennis McCarthy, the film's picture car coordinator, will take us through the coolest parts of this truly astonishing vehicle, and the destruction it leaves in its wake.
Hand-to-Hand Fury: This jam-packed featurette offers viewers a detailed look at the rehearsals, choreography, stunt work and filming of some of Fast & Furious 6's most bone-jarring fight sequences.
The Fastest of Them All: Chronicles the epic saga of the Fast films from chapters three through six. Justin Lin and his team reveal how they brought new energy to the franchise, creating a dynamic multi-movie story arc.
Reuniting the Team: Explores the characters (and actors) that make up the Fast family, with a focus on founding partners Dom and Brian (and Vin and Paul).
Letty's Return: Heralded by a crowd-pleasing cliffhanger in Fast Five, Michelle Rodriguez ("Letty") makes a dramatic return in the sixth installment. This short feature explores how the creative team engineered her resurrection.
The Mastermind and The Mole: Viewers meet Fast "newbies" Luke Evans ("Shaw") and Gina Carano ("Riley") as they share their experience joining the cast of Fast & Furious 6 and how their characters fit into the new plot.
On the Set with Vin: Vin Diesel talks through a stunt he is about to perform and then rides his hot rod through an explosion, coming out unscathed.
Feature Commentary with Director Justin Lin