Fast and Furious 7 Photo: Vin Diesel & Dwayne Johnson Together At Last!
by Joel D Amos at . Updated at . Comments
Vin Diesel took to his Facebook page to post the first photo of him and Dwayne Johnson on the set of Fast and Furious 7. Just last week, Johnson posted a Fast and Furious 7 photo of himself back as Hobbs, but this is our first opportunity to see the two action superstars together on the sequel to Fast and Furious 6.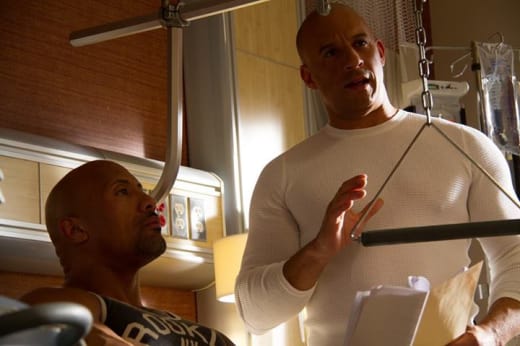 Diesel posted the photo with this insightful quote:
"When brother Dwayne steps into the Hobbs role... you can't tell where he ends, or the character begins. Our third consecutive chapter in the saga, and the short hand we've established makes the film that much better each time."
Diesel is clearly having a ball on the set as this Fast and Furious 7 set video shows, and we're sure his excitement matches that of the franchise's millions of fans.