Free Birds Exclusive Giveaway: Win Turkey Day Loot & Fandango Gift Card!
by Joel D Amos at . Updated at . Comments
Free Birds flies into theaters November 1, and the supremely clever animated family film imagines a fascinating "what if?" Owen Wilson and Woody Harrelson play modern day turkeys that get ahold of a time machine and head back to the first Thanksgiving to get the bird off the holiday menu… forever.
To celebrate the arrival of the movie in theaters, Movie Fanatic is presenting an exclusive giveaway where one lucky reader will take home a whole lot of Free Birds bounty.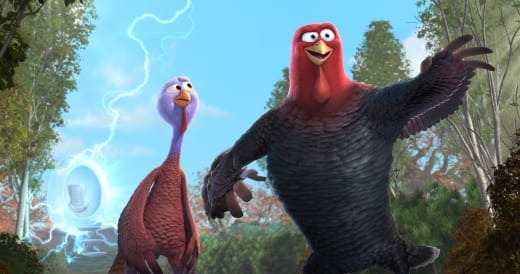 When Harrelson and Wilson land back on the eve of the first Thanksgiving, they meet Amy Poehler's character and she may be the key to this plan actually working.
Our winner will receive:
Free Birds back-pack
Free Birds drawstring bag
Free Birds light-up chick
Free Birds coloring wheel
Free Birds turkey hat
Turkey cookie cutter
Free Birds soundtrack (digital download)
$30 Fandango Gift Card
Check out the Free Birds trailer for more, and be sure to enter now as this contest ends November 8.
To enter, use the widget below to enter on Facebook or Twitter. There are three unique ways to enter, and by entering all three ways you can increase your chance at winning! And enter now, this prize pack's winners will be announced November 9.