Fright Night 2 Exclusive: Jaime Murray Shares the Scares
by Joel D Amos at . Updated at . Comments
Jaime Murray stars in Fright Night 2, out now on DVD and Blu-Ray, and phoned Movie Fanatic for an exclusive interview that takes us behind the scares. Murray talks about her favorite vampire movies, lets us in on her favorite scene in Fright Night 2 and also dishes what she thinks it is about Fright Night that has remained resonant for over two decades now.
Movie Fanatic: We missed each other at Comic-Con, and given that that fan base is perfect for Fright Night 2, how was your Comic-Con experience and the reaction from the fans?
Jamie Murray: Oh, my God… I'm new to Comic-Con. People think I've been there before because I've been on quite a few genre projects over the years like Dexter. But, I was always the spoiler, so they kept me under wraps [laughs]. To be able to go with Fright Night 2 where I can talk about it and get to have a dialogue with the fan base... The fan base for Fright Night is so loyal and so invested, for me as an artist, it's nice to know that you're impacting people in a real way.
Movie Fanatic: I would think it would be a blast. How fun was it to get the vampire teeth and, no pun intended, sink your teeth into playing a vampire?
Jamie Murray: [Laughs] I've always wanted to play a vampire and the vampire costume was always my go-to costume for Halloween. I've got the look down. I've got the dark hair and the pale skin and whatnot. The teeth… the teeth look fabulous, but they kind of in my mind's eye are a lot sexier than they actually were in real life [laughs]. Reality has you trying to be dangerous and powerful and actually it's more like you're talking with a lisp.
Movie Fanatic: What does it mean to you to be a part of this Fright Night world that has resonated for decades now?
Jaime Murray: It's been such an honor to be taken on to a franchise like this. I love that it is a story that people identify with. The vampire myth really is like a modern-day fable. It says so much about coming of age and decisions that you have to make. Making all the right choices and not inviting the wrong ones in, I think it is universal. It's a good metaphor for our culture and how seductive certain things can look from the outside and how hollow and dangerous they can be in reality. Also the comedy and horror element together work really well with Fright Night movies -- it's difficult and Fright Night gets it down. Having light relief in a horror movie is a very good thing. You don't want the comedy to undermine the horror. You want the audience to be truly scared. It's a difficult line and I think we walk it pretty well. It's great to work with a crew of people who share that same passion.
Movie Fanatic: Do you have a favorite vampire movie? We've got our Top 10 Vampire Movies! 
Jaime Murray: I loved how weird and wonderful the Swedish Let the Right One In was. But, for fun I love Lost Boys. I'm a big fan of the genre. I love True Blood.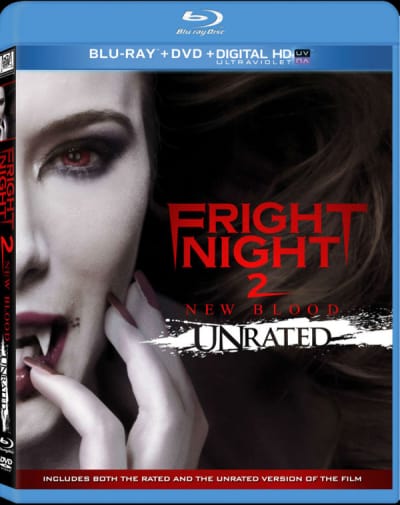 Movie Fanatic: Making Fright Night 2, what will be your most treasured memory to take away?
Jaime Murray: It was grueling at the time, but I love one of the grotesque choices when we had to cover me in blood. It's very sticky stuff, fake blood. We were filming in Romania on these amazing locations. It's the best backdrop for a vampire movie, but it was December and it was freezing! You're in these drafty old castles, covered in this sticky, cold blood. At the time, it wasn't easy. But, it ended up looking so fantastic. The scenes where you see my transformation -- that is the most memorable!