Alfonso Cuaron's Gravity exceeded expectations and scored not only the top spot at the box office over the weekend, but it also soared to a new October record. Movie pundits, including Movie Fanatic, knew that the Sandra Bullock and George Clooney-starring sci-fi game changer would finish first. But few expected that it would bank $55.5 million and secure its place as the highest-grossing October film in history.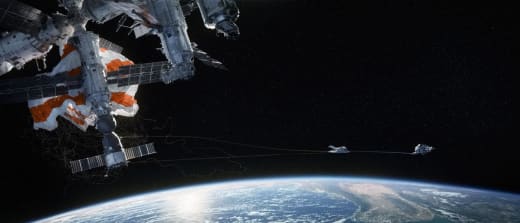 The film that we could not say enough about in our Gravity review bested the previous record held by Paranormal Activity 3's $52.5 million, and if you think about that… it is astonishing.
The emotionally charged sci-fi film beat a horror movie released during the month of Halloween. Those at Warner Bros. must be thrilled to say the least.
Second place belonged to last week's number one, Cloudy with a Chance of Meatballs 2. The animated sequel added another $21.5 million to its first week haul for a two week total of $61.5 million.
Third place was the other major new release of this past weekend, Runner Runner, The Justin Timberlake and Ben Affleck online gambling thriller didn't quite score a jackpot with audiences. Its first weekend totals were $7.6 million. Behind it in fourth place was a former number one film, Prisoners. The Hugh Jackman-Jake Gyllenhaal thriller banked $5.7 million, bringing its total to $47.8 million.
Closing out the top five was Ron Howard's Rush. The true story continued its slow and steady pace with a $4.4 million weekend. The Chris Hemsworth-starring Formula 1 racing true story now has made $18 million. Not great, but not horrible either.
Box office top 10:
1. Gravity, $55.5 million
2. Cloudy with a Chance of Meatballs 2, $21.5 million
3. Runner Runner, $7.6 million
4. Prisoners, $5.7 million
5. Rush, $4.4 million
6. Don Jon, $4.2 million
7. Baggage Claim, $4.1 million
8. Insidious Chapter 2, $3.9 million
9. Pulling Strings, $2.5 million
10. Enough Said, $2.2 million