Dwayne Johnson has posted another pic from the set of his upcoming Hercules epic, and if the heavily muscled actor isn't perfect for the part, we don't know who is… except Kellan Lutz perhaps. The latter actor made his claim with the impressive Hercules: The Legend Begins trailer that landed last week!
But, back to Johnson and his Hercules movie. If you think about the 1980s animated series and imagine a real-life actor portraying him -- wouldn't he look like Johnson does in the following picture he posted to his Facebook account?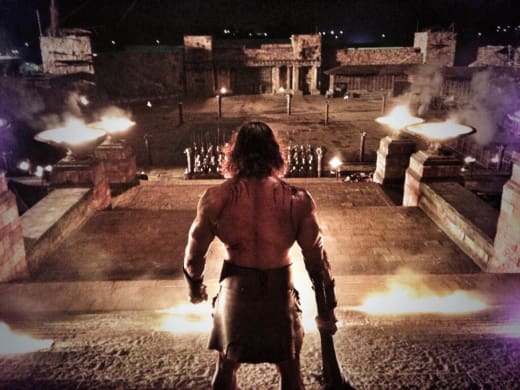 Johnson has posted photos for his fans all along the way during filming -- from his first Hercules costume and set photo to one of his Hercules helmet! As filming starts to wrap up, we suppose the next thing to expect from Johnson is a full-on video! Wait… he already did that with this Hercules set video!
And yes, we're reminded of legendary American president Theodore Roosevelt with this photo… something about walking softly and carrying a big stick!