Last Vegas Exclusive: Jerry Ferrara on Being Punched by Robert De Niro!
by Joel D Amos at . Updated at . Comments
Jerry Ferrara has been to Las Vegas many times to shoot episodes of his hit show Entourage. But, nothing could compare to the experience in Sin City he had shooting Last Vegas with legends Michael Douglas, Robert De Niro, Morgan Freeman and Kevin Kline.
Ferrara phoned us from Vegas for an exclusive chat about the once-in-a-lifetime experience not only for him, but for the Fab Four, as well as what it was like to live a life dream of getting punched by De Niro… even if it was just in the movies.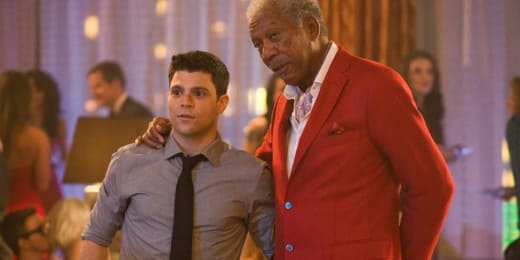 "It's hard to believe these guys have never worked together before and to be a part of that was really awesome," Ferrara said. "These are guys who have had such incredible success that they could just mail it in. But, in fact, they did the opposite. And the respect they showed for everyone in the cast, and the crew, was so impressive. I was blown away by that."
Ferrara has a natural reverence for the four Oscar winners, but he wanted his character's turn from antagonist to man who would do anything for them to feel more grounded in the reality of the story teased in the Last Vegas trailer.
"I wanted to play it so that the evolving nature of this guy would be believable. We all know guys like that in Vegas. We've seen them a million times," he said. "They are really self conscious, but that's why they drink and become so vocal. They're hiding their inhibitions."
"I wanted it to feel real and I think you really get that, especially with that scene at the end when we all say goodbye," he added.
There are many endearing moments in the film, including this Last Vegas clip, and one of them involves Freeman and Ferrara when the former gives him some love advice. When asked about what he took away from that moment with a legend, it also proved to be one of his biggest takeaways from the entire film.
"The day we shot that scene, Morgan was so sick. He had like a 102-degree fever, and the morning at 7 a.m. when we all showed up, Jon (Turteltaub, director) said that we could move things around that day so that Morgan could go rest," Ferrara recalled.
Morgan wouldn't have it.
"People have never questioned Morgan over the decades when it comes to his work ethic. He could have taken the day, but he said, 'Let's do this.' And it ended up being one of the most powerful moments in the movie for me. That taught me so much that after all this time, he was still all about the movie, and regardless of how he felt, he was going to do his part."
Then there's the scene where Ferrara gets punched by De Niro. That too had to be an honor. The actor admitted it was, but still…
"No one wants to get beat up in a movie because your family and friends are all going to see it. And even though it's a movie, you want to win a fight," Ferrara said and laughed. "But if I had to cast someone who had to beat me up in a movie, it would be Bobby De Niro."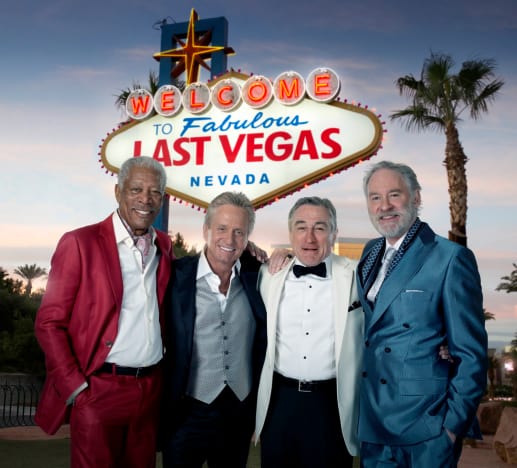 As Ferrara said the four legends could have coasted at this point in their careers on this movie, in many ways, so too could the director since he was working with such supreme talent. In fact, it was just the opposite.
"Jon's handprints are all over this movie. I think this is going to be a feather-in-his-cap movie because people don't know how funny he is," he said. "He's done so many different kinds of movies over the years, but with Last Vegas, people are truly going to see how funny he is and I think it will be a big turning point for him."
With Entourage, Ferrara is no stranger to filming in Las Vegas. Yet, it had never felt like this before. "When you're filming in Las Vegas, the city is truly another character in the movie. It should have a spot on the call sheet as to when it needs to show up," he said and laughed. "Yeah, we shot several episodes in Las Vegas with Entourage, but this was so different. There were thousands of people there watching us film to see the four of those guys working together. It was like the Beatles had landed or something."
And be sure to see what Ferrara said about the Entourage movie!