Last Vegas Exclusive: Mary Steenburgen Sings Praises of "Five-Way Friendship"
by Joel D Amos at . Updated at . Comments
Last Vegas is the rare film, besides being supremely charming, in that it has five Oscar winners appearing in the same movie for the first time. As seen from that first Last Vegas trailer, Robert De Niro, Michael Douglas, Morgan Freeman, Kevin Kline and Mary Steenburgen all star in a heartfelt comedy that follows Douglas as he is about to get married and has all his buddies join him in Las Vegas for his bachelor party.
Steenburgen plays a lounge singer that they all meet and take a liking to and she phoned us from the City of Sin for an exclusive interview to talk about the magic that is Last Vegas.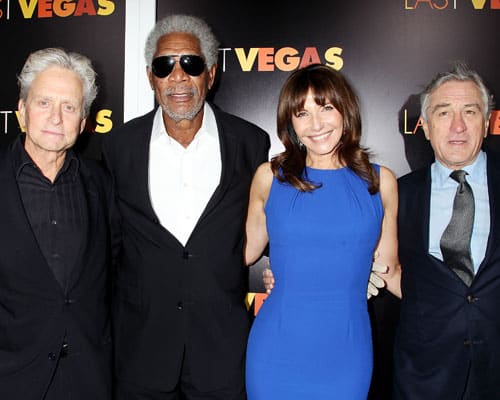 Movie Fanatic: You had many scenes together with those four guys, all Oscar winners and you as well. Were you ever able to take a step back and just appreciate the iconic moment that filming Last Vegas was?
Mary Steenburgen: I walked into the read through on the first day, and they were legends to me. And not only legends, but people I had really had on my short list of actors who I hadn't worked with that I dreamt of working with. I could not believe my good fortune. But, about one minute into the read through, they ceased to be legends to me and they became my fellow actors and my buddies. We're in it together. I felt like I started this when I was 24 years old and I'm 60 and I feel I have earned the right to be in the room too. It became this wonderful five-way friendship. It was like we were off on a little island… with this seemingly crazy world of Vegas all around us. The privilege of working with them was immense and the reality of it was more of a true connection among actors. We're old enough to know these moments are really special.
Movie Fanatic: I was struck by that first scene with you all in the cabaret -- teased in the Last Vegas movie trailer -- after you sang so beautifully. You seemed like five peas in a pod.
Mary Steenburgen: We were! We didn't know a lot about each other and then coming together and we learned that there were so many people that we had in common and our experiences in theaters in our early days in New York and our families. It was an absolute joy.
Movie Fanatic: I was taken with the scenes with you and Michael and how raw and real they were. For you, how was he as a volley partner?
Mary Steenburgen: To describe him in one word, I would use "silk." By that, I mean there's an elegance to him. There is an old school -- when movie stars were movie stars -- beautiful thing about Michael and at the same time, and the best part of him, is that he's so real and so honest as an actor and as a man. I was moved by him. He seemed to sense, more than anybody, how scared I was at the singing. I was terrified. He was sweet the first time I sang and made me feel so good. For someone who has done so much and been through so much, he is profoundly sensitive and I just loved him. It was easy to act that I loved him, because I do. 
Movie Fanatic: Do you have a favorite moment of his from Last Vegas?
Mary Steenburgen: Yes! When he makes that speech about being old and how fast it's gone. Everybody in the world, even if you're young, is all in that boat. We're all going to be a day older at the end of the day.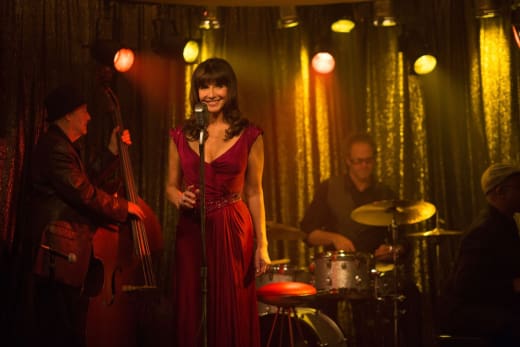 Movie Fanatic: Filming in Las Vegas, with the circus that is going on around you... was that a unique experience for you?
Mary Steenburgen: I've only done it once before and Vegas was different then -- and it was only briefly shot there and that was Melvin and Howard, the movie I won my Oscar. I had fond memories [laughs] of Vegas, naturally. I haven't spent a lot of time here because I'm someone who's not super comfortable in crowds and that's an inherent part of this world. But, I love Cirque du Soleil and I'm quite capable of going multiple times to their shows! Last night, I went for the second time to see Love. It's the stuff of dreams.
Movie Fanatic: I was taken by your director as well on Last Vegas. With all that talent, it would have been easy to sit back and watch. But, he clearly didn't.
Mary Steenburgen: He was our ringmaster! Oh my gosh, I sat next to him last night at dinner till late and he's just this bizarre combination of a wise old soul and an out-of-control, nine-year-old boy. He's hilarious to me. He somehow understood just how much to direct us and to let us play. It felt like music that was being played well together.