Machete Kills is bringing back his brand of justice to theaters October 11 and Movie Fanatic has something truly special to celebrate that fact. We're giving away to one lucky reader a Machete Kills poster signed by star Danny Trejo and his co-star Alexa Vega, as well as a Machete Kills T-Shirt!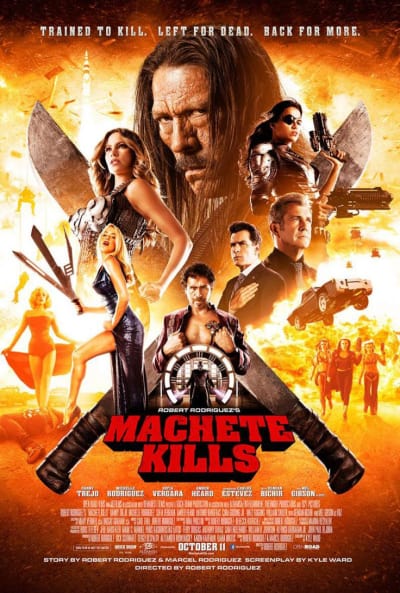 As teased in the Machete Kills trailer, Trejo's Machete is back in action, and at the request of the president (Carlos Estevez… formerly known as Charlie Sheen), he must find a heavily armed terrorist (Mel Gibson) and bring him down before he sends a missile to Washington, D.C. that will level the nation's capital.
These Machete Kills stills show the huge cast that also includes Lady Gaga, Sofia Vergara, Jessica Alba, Demian Bichir, Cuba Gooding, Jr., Amber Heard, Vanessa Hudgens and Antonio Banderas.
To enter, use the widget below to enter on Facebook or Twitter. There are three unique ways to enter, and by entering all three ways you can increase your chance at winning! And enter now, this prize pack's winners will be announced October 18.