Monsters University DVD Review: Going Deep Inside Pixar Magic
by Joel D Amos at . Updated at . Comments
Monsters University has now been released on DVD and Blu-Ray, and it only further enhances the rich history of home video releases put out by Pixar and Walt Disney. The story tells how Sulley met Mike, and as is first shown in this Monsters University clip, they were not always the best buds they became in Monsters, Inc.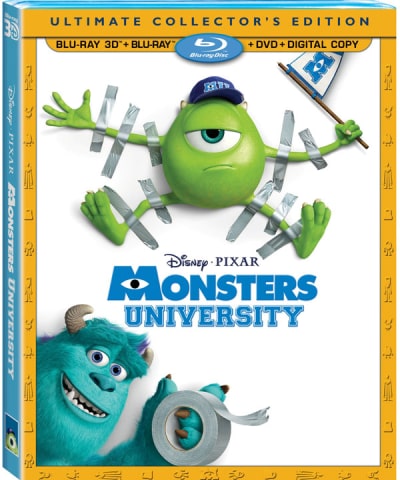 The team behind following up that first film had a stroke of brilliance by setting the film in the past and making it a prequel. Also having the landscape of a university where the two future "best" Scarers at Monsters, Inc. would first learn their tools provides a multitude of story opportunities while introducing a slew of new characters such as the character that proves that Charlie Day is a monster!
The Monsters University trailer shows part of this, from Greek game-type competitions to classes where our Scarers hone their skills, and it is all such a total joy to witness. And hearing the voices once again of Sulley and Mike, John Goodman and Billy Crystal, is also pure bliss. These two have a chemistry between them which is not easy to achieve in animation. And they simultaneously establish the friendship that would span the time between Monsters, Inc. and Monsters University, while showing how electric two performers can be when they are playing a part they were born to play.
As we state in our theatrical Monsters University review, the hilarity and heart are just some of the reasons this film stands out. With its arrival on DVD and Blu-Ray, it's an opportunity to have a movie in your home collection that can be seen over and over and over. And kids won't be the only ones hitting play again and again.
Even the bonus features are worthy of multiple viewings. There are so many we were completely enthralled by, but there are a few that rise above the rest.
Campus Life takes viewers behind the scenes and lets you know what it is like to work at Pixar in Northern California. The Pixar campus is extraordinary, we can say because we've been there on two terrific occasions. And this featurette truly captures the magical energy that is spawned from every inch of that place. It's delightful to see it on a Pixar DVD and Blu-Ray so fans of the studio can also share in this magic.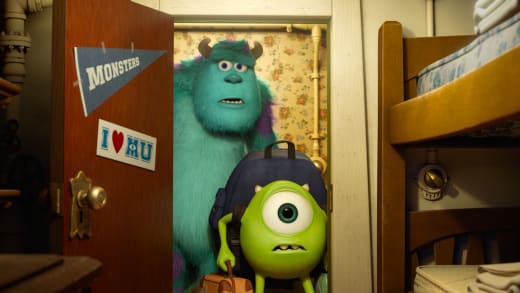 Music Appreciation takes a look at Randy Newman and the award-winning composer who is a mainstay at Pixar. This bonus feature looks at Newman as he thinks up, composes and then records the score to Monsters University. It's another unique take on a film for a home video release, and again, a fantastic addition to the bonus features available on a Pixar film. Given how much work Newman has done with Pixar, once again, fans will treasure this chance to go inside his world.
Furry Monsters: A Technical Retrospective explores the challenges of taking beloved characters that are ingrained in popular culture and reverse aging them by 20 years for a prequel. The magicians of animation at Pixar further show their mastery in this documentary feature that should inspire quite a few future animators out there!
The deleted scenes -- there are four of them -- are fantastic and, honestly, we're not sure how they were chosen to be deleted. Perhaps for time and that they don't add that much to the story. But, each scene -- Rivalry, Recon, Movie Night and Drama Class -- is main feature worthy and speaks to the astounding quality of work that Pixar produces.
Also included in the DVD and Blu-Ray combo pack is the short film that premiered before Monsters University in theaters, The Blue Umbrella. It is a powerful piece of work, and having it on the home video is certainly a warranted must for an entire home video package that could not be more magnificent.