Much Ado About Nothing DVD Review: Joss Whedon Tackles Shakespeare
by Joel D Amos at . Updated at . Comments
Joss Whedon shocked a lot of people when he followed up the success of The Avengers by tackling William Shakespeare. Yet, when Much Ado About Nothing landed in theaters this past summer, it was met with a resounding round of cheers (including us in our Much Ado About Nothing review). Now those who missed his triumphant Shakespearean effort get to check it out as the film is landing on DVD and Blu-Ray.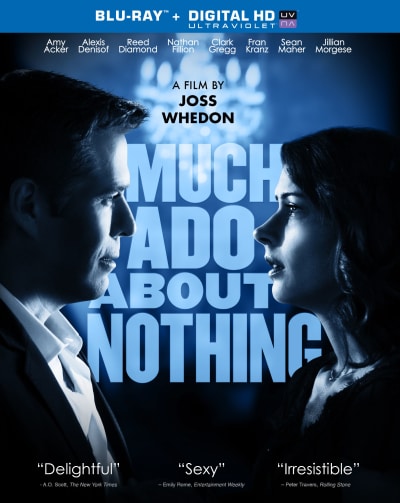 Whedon shot the film over a couple of weeks at his Los Angeles area home and cast a group of actors that have all experienced the world of Whedon in some form. Alexis Denisof and Amy Acker are the leads and souls destined to be lovers, and Agents of SHIELD star Clark Gregg is also along for the ride, with Nathan Fillion, Reed Diamond and Fran Kranz.
As seen in the Much Ado About Nothing trailer, the film is in black and white… but in many ways could not be more colorful in drama and humor. Whedon has as much of a command of Shakespeare as he does Marvel superheroes! If you like Whedon, you'll love Much Ado About Nothing, and if you adore Shakespeare, then this is a DVD and Blu-Ray to treasure.
Much Ado About Nothing is one of the best films of the year, and made our Top 10 Movies of 2013 So Far!
In terms of bonus features for the DVD and Blu-Ray, it's interesting because it would have been very easy to go light on this feature. But, Whedon and company did exactly the opposite.
The highlight for us, not surprisingly, is the director's commentary. Whedon is joined by his cast, and it is especially fascinating to hear a director and his ensemble talk so frankly about the filming process when that artistic effort was so organic and raw to begin with. Also a treat is the Much Ado About Making Nothing featurette that takes viewers inside the actual filming that produced this little gem.
And we would be remiss not to mention the Sign No More music video, and to think a music video had a place on a Shakespeare movie's DVD and Blu-Ray might seem strange… but it fits perfectly well, almost like it was Shakespearean-scripted fate.