October may mean that the temperatures outside are getting a little cooler, but that doesn't mean that the heat inside the movie house will ease anytime soon. There are still summer-type blockbusters arriving, as well as an Oscar race that will start to come closer into view. We're wondering in our latest poll, which October movie gets you most excited?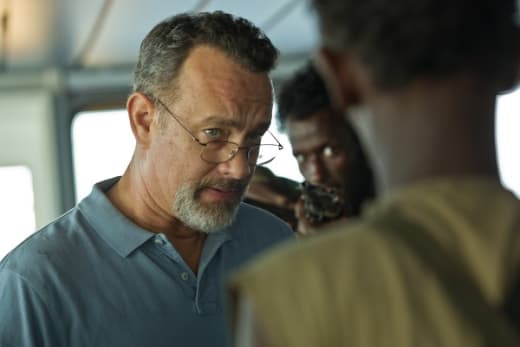 Sandra Bullock and George Clooney get lost in space in Gravity, from visionary director Alfonso Cuaron. The film has Oscar buzz all around it, but it is also a sci-fi thrill ride that will uniformly please. Ben Affleck (fresh from being named Batman) is the head of an online casino that took Justin Timberlake for everything he's worth in Runner Runner. That doesn't sit so well, as you see in the Runner Runner trailer.
Shakespeare's iconic tragic love story gets another go from the writer of Downton Abbey with Romeo and Juliet, and Tom Hanks is kidnapped on the high seas in the true story-thriller Captain Phillips. And who isn't excited about the return of Robert Rodriguez's anti-hero Machete in Machete Kills? I mean, with Carlos Estevez (that's Charlie Sheen to you and me) playing the president… how can it not be campy good?
Romeo and Juliet isn't the only "remake" making the rounds this October. The Stephen King classic Carrie comes back at audiences, almost 40 years after the first one. And with Chloe Moretz and Julianne Moore playing the tenuous mother-daughter tandem -- as brilliantly shown in the Carrie trailer -- this could be one horror story to relish.
Arnold Schwarzenegger and Sylvester Stallone re-team for Escape Plan as they vie for the action movie audience while The Fifth Estate vies for Oscar votes in the true story about WikiLeaks.
Oscar bait films don't stop there with 12 Years a Slave, Kill Your Darlings and The Counselor coming out of the Toronto Film Festival with serious buzz.
And October ends with… a Jackass. Bad Grandpa is the latest from Johnny Knoxville who dresses up as an old man and does his best to ruin people's day to the delight of audiences.
Which October movie are you most looking forward to?