One Direction This Is It DVD: Release Date Announced!
by Joel D Amos at . Updated at . Comments
One Direction: This Is It exploded in 3D and IMAX when it arrived in theaters earlier this year. Now, the boys from Britain will be bringing it home, and don't think the smaller screens will do anything to dampen the spirit the fans have for them when One Direction: This Is It lands on DVD and Blu-Ray December 17. Think it will be a go-to Christmas gift for your favorite 1D fan? You bet!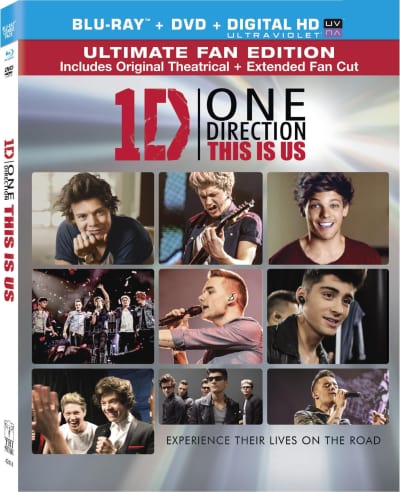 As was told to us in our Morgan Spurlock exclusive interview, the director feels that the One Direction story is much more than a music tale. It's a story that is unique to our cultural times of social media and how a band can go from reality show also-rans to the biggest band in the world in the span of months.
The DVD and Blu-Ray version of One Direction: This Is It contains both the theatrical version of the movie, as well as the extended "fan cut" that features additional songs, three exclusive featurettes and behind-the-scenes footage never seen before.
The Blu-ray combo pack features 20 minutes of new footage, four additional songs and three featurettes: I Didn't Do It (featuring the boys trying to complete on-air promotions at a Japanese radio station), Hold That Pose (showcasing the guys and their visit to the famed Madam Tussauds wax museum) and Up All Night – which is two mini movies previously only shown during the live concert.
Also, the Blu-Ray Combo Pack and the DVD features the Best Song Ever music video and five "Going Home" featurettes that follow the guys as they head home with their world completely changed.
And there is more: The Before The Show Featurette which showcases the boys hanging out, playing games, exercising/training, and getting ready for one of their performances, plus the 1D Family Featurette, an in-depth look at the passionate fans of One Direction. 
As we said in our One Direction: This Is It review, believe it or not, you don't even need to be a fan of the group to enjoy this movie. It's just fun, fun, fun!