Those of us who follow movies so passionately know that Pacific Rim was a blockbuster. But, did you know that the Guillermo del Toro passion project is actually the highest grossing original story, non-sequel, movie of the year so far?! Well, that blockbuster is now coming home on DVD and Blu-Ray and it includes a series of extras that is as extraordinary as the vision possessed by the film's creator.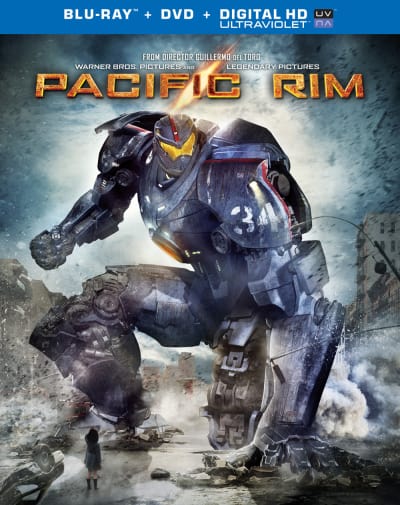 Pacific Rim is del Toro's baby and is his tribute to the films that made him want to make movies in the first place. As teased in the Pacific Rim trailer, aliens have invaded Earth, but not from the skies, from underneath the Pacific Rim and emerged from the waters leaving us on the brink of utter disaster. Humankind responds by building the most monstrous robots you can even dream up to take the battle to those alien monsters to claim our planet back from their violent grasp.
When the film hit theaters, our Pacific Rim review found the film incredibly original and about as large of a scale of a film as you can get. Now, will that aspect be lost on the small(er) screens of home theater? Actually, not at all as the transfer is solid, those effects are still mind-blowing and if anything, by reducing the scale slightly of the screen, some of those battle sequences between robots and aliens are actually easier to make out who's fighting who!
First and foremost, Pacific Rim does not work with its wicked special effects and audio effects mastery without a solid cast to push del Toro's story.
In the news lately for quitting Fifty Shades of Grey, Charlie Hunnam stars as a pilot who has suffered greatly and has to be recruited back to fight the alien monsters when he loses something dear to him in the film's opening battle. Idris Elba is the commander, and boy, does he command every inch of screen. And Charlie Day is a monster of talent as the scientific expert who is just slightly obsessed with the aliens… so much so you might think he wants to become one! Also standouts are the always awesome Ron Perlman, Babel star Rinko Kikuchi and Rob Kazinsky.
Given that this is the director's passion project, we were keen to check out the audio commentary track by del Toro and it should be no surprise that it is simply awesome. Having the filmmaker's take on how and why he shot certain scenes the way he did or had characters do certain things is a priceless addition to the Pacific Rim DVD and Blu-Ray release. In many ways, the del Toro audio commentary is like a master class in film taught by one who is at the very top of his game.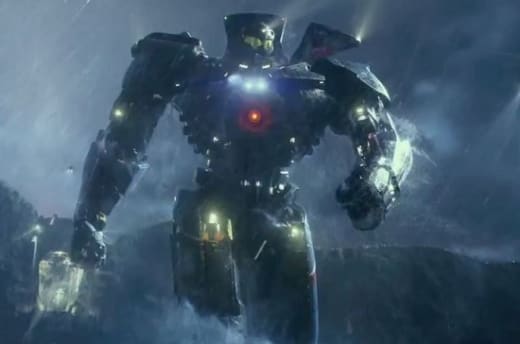 In that vein, The Director's Notebook was a feature that we found incredibly compelling in its ability to take us further into the mind of del Toro and his filmmaking process.
Given the artistic scope of Pacific Rim, the bonus feature The Digital Artistry of Pacific Rim is spellbinding. For every "how did they do that?" moment in the film, there is a detailed explanation and process explored in that bonus feature. You think the film looks glorious? Just wait until you see how much so when you get to the smallest of scales in terms of creating movie magic.
What not many people know is del Toro has a wicked sense of humor. That is evident in his choice of Blooper Reel material. It might be an interesting addition to a home video package like this, but the Blooper Reel shows that del Toro also keeps his set light, even if what they are filming is quite heavy.