The Amazing Spider-Man 2: Hans Zimmer Hires Supergroup with Pharrell Williams
by Joel D Amos at . Updated at . Comments
The Amazing Spider-Man 2 composer Hans Zimmer has compiled a supergroup of musicians to help him with the soundtrack. Among them is Pharrell Williams, who has had one of the biggest hits of his career this year with Robin Thicke in Blurred Lines. Also joining Zimmer in the studio will be Johnny Marr (The Smiths), former Eurythmics leader Dave Stewart and Michael Einzeiger (Incubus).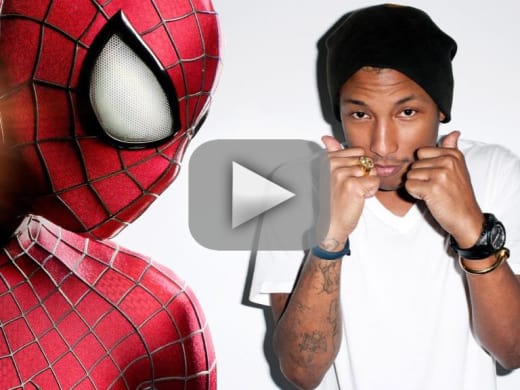 The studio behind the film (when will we see that The Amazing Spider-Man trailer?) put out a press release celebrating this fact where Zimmer talked about his joy in working with such talented musicians.
"Marc (Webb, director) and I were talking about Spider-Man, and as the word got out, so many of our friends and musicians started calling us up, wanting to be a part of it, because they love Spider-Man," Zimmer said. "That was the thing that united all of us – great love for Spider-Man. With all those hugely talented people wanting to join us, it was Marc who said, 'Why not start a band?' Marc and I have had a great start jamming with everybody, and we still have a few surprises up our sleeve."
Like, who?!
Zimmer is no stranger to working with superstar musicians, check out who he worked with on the Man of Steel score in our Hans Zimmer exclusive interview!