The Conjuring DVD Review: James Wan Wicked Ways Continue
by Joel D Amos at . Updated at . Comments
Earlier this year, The Conjuring scared up quite a haul and won its weekend box office battle in the trenches of the hard fought summer movie season. The true-story horror movie is coming home on DVD, Blu-Ray and digital download and includes a slew of extras sure to expand the joyous experience (so says our theatrical The Conjuring review) that is witnessing this movie for horror fans.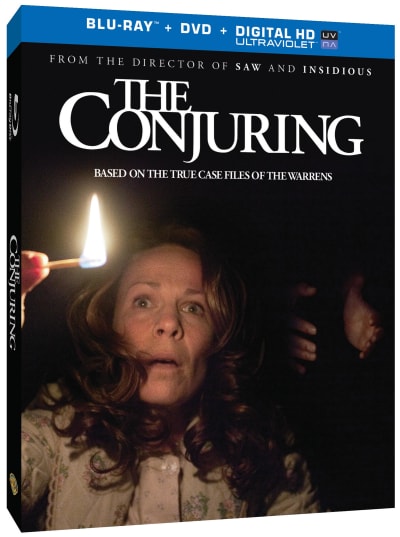 As The Conjuring trailer teases, the film is set in the 1970s and stars Lili Taylor and Ron Livingston as Roger and Carolyn Perron. They move into a new home and what begins as random noises in the night results in the parents realizing that it may be no coincidence that the scares started when their daughter found a doll that the previous tenants had left behind.
Vera Farmiga and Patrick Wilson are Ed and Lorraine Warren, the real-life couple who have successfully documented dozens of hauntings, and their story is so compelling in The Conjuring, we hope it is the first of many featuring the supernatural-fighting couple.
The Warrens show up at the Perrons' house after the family feels they have nowhere else to go. And as horror movies go… this one is off and running.
The Conjuring is directed by James Wan (whose recent Insidious Chapter 2 also topped the box office charts). The man who seems to have the golden touch when it comes to scaring us (he is also behind the Saw franchise) further shows his mettle with The Conjuring.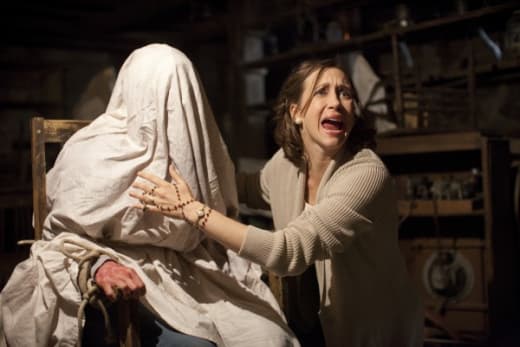 Since it is Wan's film through and through and he is proving he is the go-to guy in horror lately, the bonus feature Scaring the "@$*%" Out of You is bloody brilliant. It takes viewers into the mind of Wan and lets you in on what scares him and why he has an insight into scaring us which has audiences turning out in droves.
The bonus feature The Conjuring: Face-to-Face with Terror is also a priceless addition to the home video package. It has audiences literally re-living the real-life horror of what the Warrens investigated with the Perrons. The real Perron family even comes together to give an insight into their horrific experience that only increases the fear factor on this home video release.
Then, the A Life in Demonology documentary looks at the life work of the Warrens. As you can see in this featurette, the story in The Conjuring is merely the beginning of their jarring journey and, as we said before, we hope The Conjuring is only the first chapter cinematically.