The Croods DVD Review: History's First Animated Family Comedy
by Joel D Amos at . Updated at . Comments
The Croods landed in theaters earlier this year and became a $582 million-grossing smash. Nicolas Cage stars as the patriarch of a caveman clan who are the last of their kind, and now his family's animated adventure has come home on DVD and Blu-Ray. The Croods trailer teases the story about how their world is changing and how a simple man named Guy (Ryan Reynolds) will help lead them into a new era.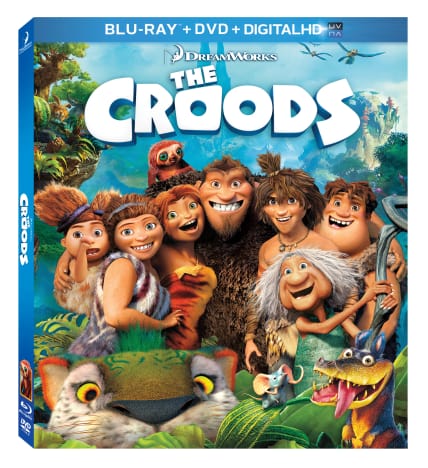 The DreamWorks animated film also stars Catherine Keener as Cage's wife, Emma Stone as his adventurous daughter (who has eyes for Guy) and Clark Duke as his chip off the old block son. As the world is geologically changing and humans are physiologically changing, it is difficult for Cage's character to adjust… and that plays right into the viewer's funny bone.
Cage turns in his best performance in years, as reported in our The Croods review, and it's easy to see why filmmakers Kirk De Micco and Chris Sanders are eager to get working on the planned sequel. But, until then the DVD and Blu-Ray should enthrall audiences young and young at heart.
The bonus features on the Blu-Ray/DVD combo pack that Movie Fanatic received are plenty and terrific.
We were especially charmed by the unique creatures created by DreamWorks Animation for The Croods, so the bonus featurette The Croodaceous Creatures of the Croods hits a home run for us. It also shows how far animation has come in Hollywood in many ways. Before there was just Disney, now with DreamWorks Animation adding animated brilliance, this is no longer a one horse animated town!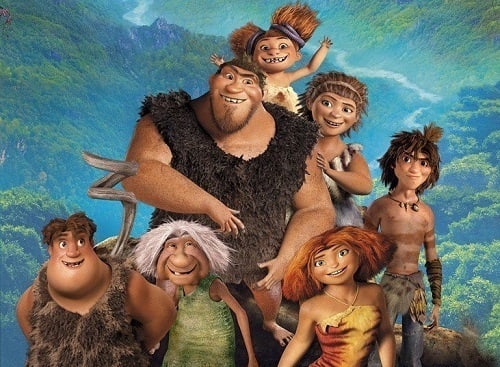 Kids will adore the feature Be an Artist that allows viewers to draw the characters Belt, Macawnivore and Mousephant that could inspire the next generation of animators! The Croods Coloring and Storybook Builder App also fosters that type of creative expression by youngsters and is a brilliant and unique addition to The Croods Blu-Ray and DVD.
And the inclusion of World of DreamWorks Animation with its featuring of music videos not just from The Croods, but numerous DreamWorks' Animation feature films is so forward thinking it is astounding. The studio is building an audience and fan base, much as others have in the past, and what better way than to highlight what has come before as its audience gets excited about what is coming next.