The Exorcist Blu-Ray Review: Relive the Horror in Hi-Def
by Joel D Amos at . Updated at . Comments
The Exorcist is celebrating its fortieth birthday with an impressive Blu-Ray release that includes several new featurettes that take viewers deeper behind the horror that shocked the world upon its release in 1973. Also, William Friedkin has his extended director's cut included in the Blu-Ray release that also features the original theatrical version.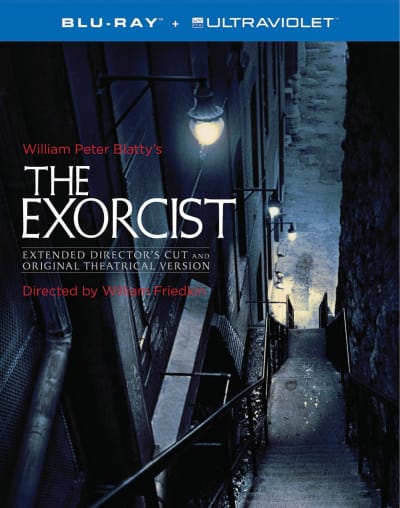 Just in time for Halloween, one of the best and most popular horror movies of all time is coming home with a Blu-Ray edition that features the scares with the highest quality sound and picture available in home theater. The latest The Exorcist Blu-Ray release is highlighted by two new featurettes that have never before been presented.
Beyond Comprehension: William Peter Blatty's The Exorcist is a superbly welcome edition to The Exorcist home video package. By showcasing the world as first imagined on the pages of Blatty's book, it provides a context for the film that only enhances the experience. In it, the author goes back to where it all started. First up is the cabin in Encino, California, where he penned the book that would become a blockbuster movie and bestselling book.
Then the documentary meets Blatty in two locations that are extremely familiar to fans of the movie. Between the two, they are like bookends to the film, and to hear Blatty talking about the book and the movie at Georgetown University where the film was shot and at the steps that have forever been renamed the Exorcist steps is a unique look back.
Through the locale shoots, Blatty reads from his novel and that truly puts the entire Exorcist experience in context.
The second bonus feature to delight fans is Talk of the Devil, which also is Blatty-based. This documentary looks at Blatty's time at Georgetown University when he first heard about the story at the heart of the horror classic. When the film first came out 40 years ago, Father Eugene Gallagher, who performed the titular exorcism, talked at length about the true story and Blatty. This footage is now available for the first time. To say it is fascinating is one seriously gross understatement.
The other special features on this fortieth anniversary edition of The Exorcist have been released before. The commentary by Friedkin is fascinating, as is that provided by Blatty. And something we can never tire of is that original ending, that gets a whole lot of new power behind it with this look back at an American classic.
If you do not have this film in your collection, might we suggest you run -- don't walk -- to pick it up. It is a standard, not only among horror movies, but among cinematic history as a whole. Films such as The Conjuring and the recently released Insidious Chapter 2 owe much to this iconic movie.