Sandra Bullock and Melissa McCarthy truly brought The Heat when the buddy cop comedy hit theaters last summer and audiences responded. It was a surprise hit and now the laughs and thrills have come home on DVD and Blu-Ray.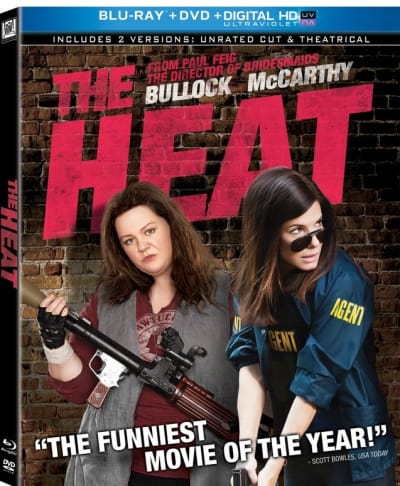 The Heat reunites Bridesmaids director Paul Feig with McCarthy, and not to be left out, Bullock matches her co-star's hilarity note-for-note. As teased in The Heat trailer, Bullock is an FBI agent hot on a case and McCarthy is a no-nonsense Boston cop. They must work together to solve the case that has implications well beyond the confines of Beantown (What are the Top 10 Boston Based Movies?).
As we stated in The Heat review, the leads are terrific together and it is clear that each is a perfect match for the other. They take their straight woman-oddball pairing that could have resulted in cliche and manage to make it feel fresh, exciting and, yes, hilarious.
Since the Feig set was a natural for comedic improv, one would expect the bonus features on the DVD and Blu-Ray to be a bounty of extras humor. That begins with the audio commentary by Feig, McCarthy, the Original Mystery Science Theater 3000 Guys (!) and the Mullins family.
Who is the Mullins family, you ask? Why they are the onscreen, foul-mouthed relatives of McCarthy's who put on a comedy clinic in one particular scene where they just dig into Bullock and she takes it like a champ. Stealing that scene, and having the bonus features show their hilarious outtakes, is Jamie Denbo and Jessica Chaffin.
And that outtake is just the beginning. The All The Stuff We Had To Take Out But Still Think Is Funny: Deleted, Alternate & Extended Scenes is a must witness after taking in the entire movie. The proof of this cast's immense flair for the funny is evidenced in the film itself, but on these deleted and alternative scenes, it is a master class in the art of cinematic humor.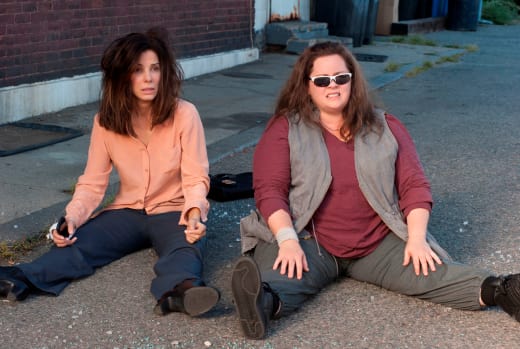 Speaking of alternative takes, the fact that the unrated version of the film is also available on the Blu-Ray/DVD combo pack is a gift from filmmaker Feig. His unrated edition of the film is actually even funnier.
The behind-the-scenes featurette How The Heat Was Made is also a fascinating look at how Feig and his co-stars embody the collaborative effort of making a movie. It's easy to see why actors and actresses are flocking to work with the director given what we see of the creative process behind The Heat.