The Heat Exclusive: Inside Comedy Chaos with Jamie Denbo & Jessica Chaffin
by Joel D Amos at . Updated at . Comments
When The Heat became a blockbuster hit this last summer, it was the latest in a long run of smashes for both its stars Sandra Bullock and Melissa McCarthy. The film reunited McCarthy with her Bridesmaids director Paul Feig and also introduced the world to the comic brilliance of Jessica Chaffin and Jamie Denbo.
The duo phoned Movie Fanatic for an exclusive interview where, as The Heat lands on DVD and Blu-Ray, we explored the magic of Feig, Bullock and McCarthy, plus what it means to the two of them that female comediennes like McCarthy are breaking glass cinematic ceilings left and right.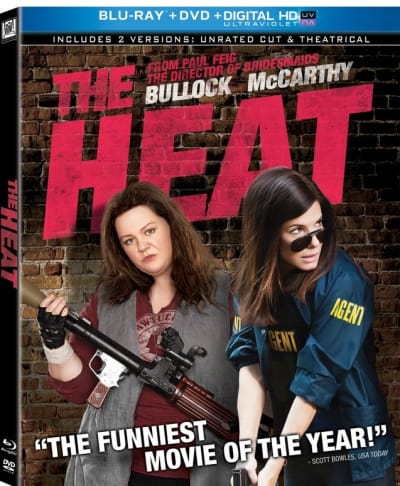 Movie Fanatic: What was it like for you two to work with someone on The Heat who is so adept at capturing the spontaneity of comedy on screen?
Jamie Denbo: Paul is the whole package, he's the real deal. He gets what is funny about a script and lets the creative process guide you. He's a true collaborator and that is what distinguishes him. He's just got a really good ego, and that allows everyone to make the best project that we can make. Also, he impregnated me during the filming and it's awkward that he won't talk to me now.
Movie Fanatic: [Laughs] And he's a snappy dresser!
Jessica Chaffin: That's what drew me to him in the first place. But, look, he's not perfect, alright, nobody's perfect, OK [laughs]?
Movie Fanatic: The scene at the table with you, Sandra Bullock and Melissa McCarthy that's teased in The Heat trailer. I was curious how much of it was improv and how much was scripted because it looks like you all just went off! Are there other versions out there on the DVD?
Jessica Chaffin: On the DVD they were very kind to put a ton of the other takes that we did. We were basically sitting there for over five hours and it was literally the most fun ever. And I have to say I was totally blown away that Sandra was even willing to take that. First she sits down, and you're like, "Oh my God. She's so pretty." I was thinking, "I don't want to do this." But then I deliver that line, "Are you a boy or a girl?" Jamie has that great line, "How do you get that close of a shave on your face?" And we just assaulted her with insults for five hours! It shows what a pro she is and how up for anything she is.
Jamie Denbo: She's an incredible improviser and that doesn't get mentioned enough. To actors like us, to have enough graciousness and up-for-it attitude is amazing. 
Movie Fanatic: What does it mean to you the success that Melissa McCarthy is having? As fellow female comics, it must be inspiring.
Jamie Denbo: She's not out of nowhere. She has paid her dues. If you look at her history, she acquired new skills to accompany her talent every chance she gets. She has been busting her balls and she has finally gotten the opportunity to bring all of these skills to the forefront. Thank goodness for audiences who responded when she got together with Paul Feig and harnessed it all at the same time at Bridesmaids. It's getting a master class in comedy just getting to watch her work. It's very inspiring.
Jessica Chaffin: It's great to see a woman over forty break. That doesn't happen. We're in a business and a world when women hit a certain age, they are tossed aside. She has broken those molds. And we're only 22, but we've been smoking since we were six, so we may look a little older. On the one hand, she has incredible stamina. Every single scene, she brings her whole self to it. This goes back to our early teachings when we studied improv -- it's the truth in comedy. She brings some kind of truth or pathos to what she's doing and that's the stuff that resonates with people. She's not just a clown. She's a person.