The Internship features the first teaming of Owen Wilson and Vince Vaughn since Wedding Crashers, and it could not be more different of a film, as we stated in our theatrical The Internship review. The Internship has arrived on DVD and Blu-Ray, and as it is a comedy, it has the usual suspects of deleted scenes, but they are what set it apart from other comedy home video releases of late.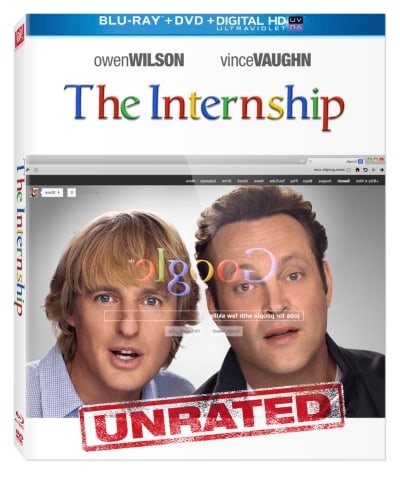 Vaughn and Wilson begin the movie as a pair of salesmen who are on the verge of becoming extinct in this internet shopping age. So, when their company goes under, the guys dive into the world that made their jobs obsolete. Nope, they can't get a job at Google, but an internship? Sure, that will work!
The fish-out-of-water premise is pretty solid here, although I don't know many people of their age who don't know their way around a search engine or a webcam, as seen in this The Internship clip. But, with Wilson and Vaughn wielding the comedy, it works. Yet, we cannot stress enough that this is in no way a Wedding Crashers 2 in feel and formula.
The DVD/Blu-Ray edition we received has the unrated edition, which does get a little raunchier than the theatrical version (a la Wedding Crashers), yet it still does not push the envelope into their previous pairing's hilarity.
The deleted scenes play into these two comics' talents and are fun to witness… although only total about eight minutes.
But, the one who steals the entire deleted scenes section is Will Ferrell at a cosplay party. He meets Wilson and Vaughn's characters and Ferrell is dressed as Star Wars bounty hunter Boba Fett. What he says about a fellow party reveler is priceless. "Check out this hot little number," he said. "I don't know if it's an Ewok or a space squirrel. I can't wait to rip into that!"
Why it didn't make it into the movie, we have no idea, but it's ours now thanks to bonus features!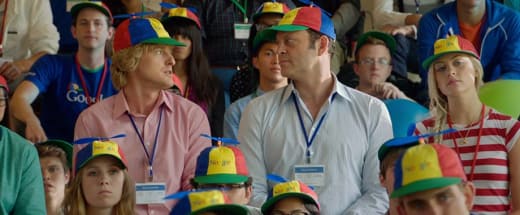 Also compelling is the audio commentary with director Shawn Levy, who does his take on both the theatrical and unrated versions. Levy has gone on to varied success, from Real Steel to the Night at the Museum movies. But, his real passion is comedy and it's easy to hear that with his audio commentary on The Internship.
And as we are Harry Potter fans, one of the best scenes in the movie is a Quidditch match, and Any Given Monday is a 17-minute bonus featurette that takes us inside how it was filmed.