The Purge landed in theaters this past summer and became a surprise hit -- although, in hindsight, it should not have been such a shocker. Horror movies traditionally have done well of late, and The Purge's star Ethan Hawke was riding a wave that was his most successful summer… ever. Now The Purge has landed on DVD and Blu-Ray and should find another avalanche of success on home video.
What can be seen in The Purge trailer merely scratches the surface as to what this film is all about. Hawke and his wife (Lena Headey) are raising their family in the suburbs of an America that is not quite like the one we all know. Crime is at an all-time low and it is largely due to the fact that once a year there is a government-sanctioned event called the Purge. That's right... one night a year, all crime is legal. Murder, robbery, you name it, and it is something you are allowed to do without consequences.
Well, without legal consequences as is so amazingly shown in The Purge.
Hawke and his family are buttoning down the hatches and lowering their steel doors, ready to settle in to a quiet Purge night in the sanctity of their own home. Then, the young son sees something on the monitor. It is a man, bleeding, begging for help from a neighborhood who will not listen. Far off in the distance, a mob grows ever closer. What does the young kid do? Why, he opens the door and lets him in… and all sorts of hell with it.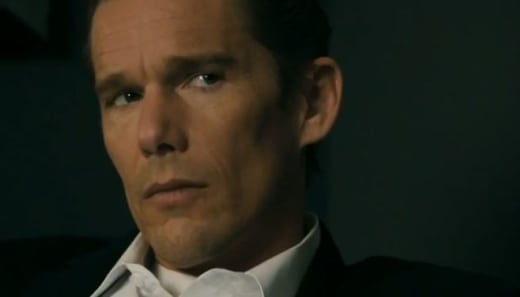 As we stated in our The Purge review, this is a wildly original idea for a film. Some have called it a horror movie; we prefer to think of it as a modern day thriller. Either way, it is a fun ride, which will also spawn discussion from those who view it after the credits roll.
In terms of bonus features, there is only one… and it is fantastic. Surviving the Night: The Making of the Purge explores the effort to bring this original story to the screen, from script through filmmaking. It includes interviews with stars Hawke, Headey, Adelaide Kane, Max Burkholder and Edwin Hodge and asks its stars a powerful question that lies at the heart of their hit movie: What would it take for the Purge to become reality? Their answers might surprise.