The Way Way Back DVD Review: Steve Carell Is a Great Jerk!
by Joel D Amos at . Updated at . Comments
There is an uncanny charm to The Way Way Back that is utterly contagious. The film did decent business upon its release this past summer with strong critical praise (check out our theatrical The Way Way Back review) and word of mouth. And now that it has landed on DVD and Blu-Ray, that wave of people discovering this Steve Carell-starring film should only grow exponentially.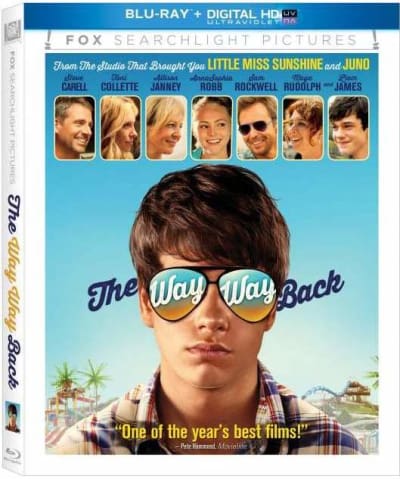 As teased in The Way Way Back trailer, Carell stars as a man who is raising his teenage daughter and dating Toni Collette's Pam. She has a teenage son (Liam James as Duncan) who is kind of lost, and the film even begins with Carell digging into him about his lack of ambition and personal hopefulness. Carell's character is not the nicest guy in the world and that's a fresh side of the vastly talented actor.
The makeshift "family" is heading to the coast to spend the summer in his beach home. Immediately a cast of characters is introduced from the priceless script by Jim Rash and Nat Faxon. From the next door neighbor who drinks too much (Allison Janney) and her daughter (AnnaSophia Robb) to Carell's couple friends (Rob Corrdry and Allison Pete), it's easy to see that this is going to be an eclectic movie with the richest of characters who all share a whole lot of heart… well, maybe except for Carell!
When Duncan tires of hanging around the house all the time, only to be berated and made fun of by Carell's Trent, he takes a bike and rides to a local water park. It is a fateful journey that will change his life. He takes a job there and becomes mentored by Sam Rockwell and Maya Rudolph. His relationship with Rockwell is particularly touching. It is rare that film shows the importance of a male role model for a teenage boy that is not necessarily his father. Rockwell and James have a chemistry that pops, and it is what truly sets The Way Way Back above other ensemble comedy-dramas we've seen of late.
When it comes to bonus features, the deleted scenes are fascinating and it is clear why they were deleted, but after witnessing the film as a whole, they are like a delightful dessert after a thoroughly satisfying meal.
The three behind-the-scenes featurettes are a nice touch as well. The Tour of the Water Park is brilliant. The site holds such a place in the story that without the behind-the-scenes look at the place that Rockwell runs, it would seem missing. And kudos to filmmakers for putting on this featurette when it might not have seemed an obvious need for the Blu-Ray.
The Filmmakers: Jim & Nat featurette is a can't-miss as the duo (who won an Oscar for The Descendents) talk about their latest project. Since this is so their film -- they even star in it -- getting their take on The Way Way Back and its somewhat biographical nature is simply priceless.
And lastly, the Ensemble Featurettes are a delightful addition to get the stars of the movie's take on why the experience of making The Way Way Back was so important to them.