The Wolf of Wall Street: Jonah Hill & Leonardo DiCaprio Dish Scorsese Sizzler
by Joel D Amos at . Comments
If that The Wolf of Wall Street trailer was any indication, the fifth collaboration between Martin Scrosese and Leonardo DiCaprio should be something truly special. Rumors were flying that the film would not be able to make its November 15 release date, might even miss awards season altogether and get pushed into 2014.
We're happy to report that Scorsese and his editing team are fast at work, and although November 15 is not likely, the film will arrive on screens before the calendar switches to 2014.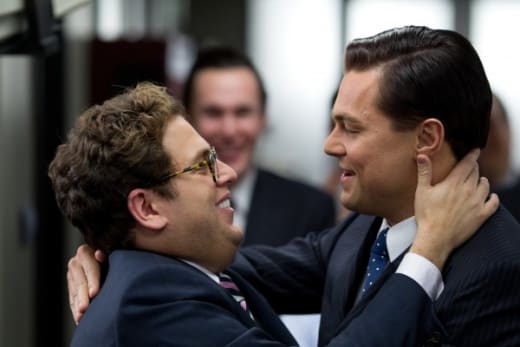 Stars DiCaprio and Jonah Hill talked recently to the Wall Street Journal and each clearly are excited that audiences will get to see the wildly original film this year. DiCaprio is used to the Scorsese filming methodologies, clearly, but given that Scorsese wanted some improvisation in Wolf of Wall Street, the actor welcomed the addition of Hill into the Scorsese family.
"Jonah Hill is probably one of the greatest improvisers I've ever worked with. He's completely fearless standing in front of a group of people, coming up with incredibly spontaneous, brilliant dialogue," DiCaprio said.
"There were multiple occasions when the scene became something absolutely different just because he would bring up some hilarious subject, and we would just riff on it until the film canister ran out, and Marty would let us do it all over again from a different angle, and we'd keep riffing."
To say Hill was thrilled to join the esteemed list of actors who have appeared in the legendary director's movies is an understatement. And he is clearly up for The Wolf of Wall Street, after his Oscar-nominated turn in Moneyball.
"I mean, being shot in slow motion doing cocaine by Martin Scorsese is, like, maybe every actor's dream. Nothing will ever compare to it, except for maybe having kids one day or something," Hill said.
Scorsese said that although the film will be an acting powerhouse, that also includes Matthew McConaughey, he stresses the protagonist in his film will be the street of the title, known for being the financial capital of the world.
"I would ask: Given the nature of free-market capitalism -- where the rule is to rise to the top at all costs -- is it possible to have a financial industry hero? And by the way, this is not a pop-culture trend we're talking about," Scorsese said.
"There aren't many financial heroes in literature, theater or cinema."